Control Panel
You'll likely find your RoboVent dust collector equipped with our ePro controls to make operation easier than ever. The extra-large (7"), full-color Human Machine Interface (HMI) touchscreen is easy to see, simple to use and gives you access to everything you need to keep your system running smoothly. ePro controls are:
Easy to see
Easy to access
Easy to operate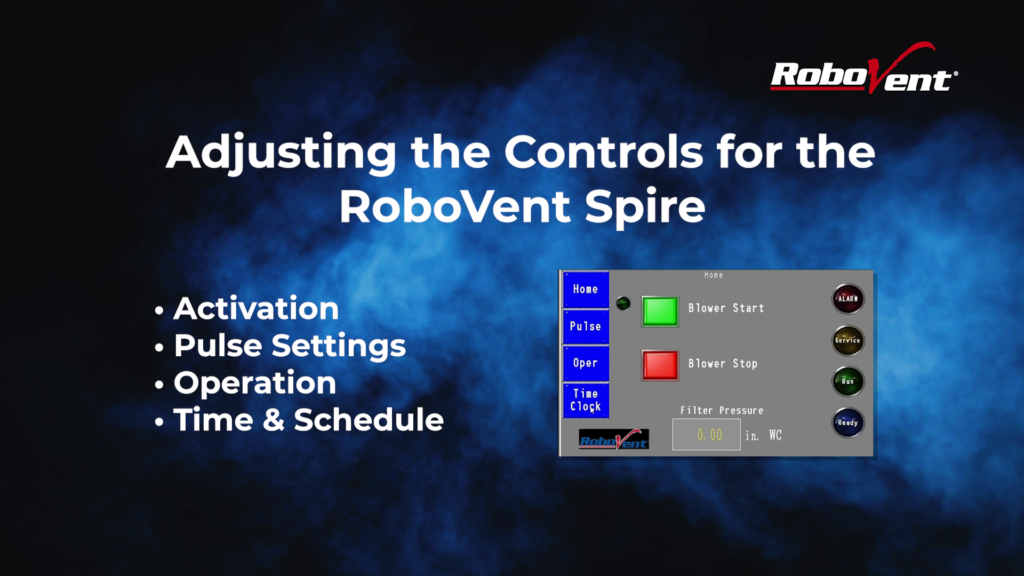 Convenient Access to Dust Collector Controls
The control panel is mounted in an electrical control box which can be installed on the side of the unit or tethered in a more convenient location.
If lighting is less than desirable in the plant, the bright HD touchscreen makes it simple to read and the intuitive navigation reduces operator time and training requirements.
Total Control Over Dust Collector Operation
ePro controls give you easy access to manage operating parameters for your unit to achieve optimal energy efficiency and filter life.
Blower On/Off: Turn the unit on or off manually at any time.
Automated filter pulsing: The filter pulsing mechanism will come on automatically when differential pressure (a measure of filter loading) reaches set parameters. This extends filter life and saves energy by activating filter pulsing only when needed.
Manual filter pulsing: You can activate filter pulsing manually at any time to clean excess dust off of the filters.
Variable frequency drive (VFD): When in auto speed control mode, the VFD motor automatically ramps up or down based on actual usage to save energy. The user can establish the cabinet pressure setpoint, max RPM and other variables to optimize equipment performance.
Programable start/stop: Set your daily and weekly schedule so your dust collector turns on automatically when you need it and turns off when you don't. You can easily adjust your schedule for holidays, extra shifts or other changes.
Visibility into Dust Collector Performance
Monitor the performance of your dust collector and keep track of safety or maintenance alerts. Get the information you need for safe and efficient operation of your dust collector in an easy-to-understand format.
Operating log: View your operating history and alerts, including service notifications (such as filter change) and safety alarms (including automated shutoffs and smoke alarms). Click on any alert to learn more.
Clear alerts: Once alerts have been acknowledged or handled, they can be easily cleared so you can focus on active alerts.