SOLUTIONS FOR DUST AND FUMES IN ROBOTIC WELDING
RoboVent has been a leader in clean air solutions for robotic welding for more than 25 years. By working with us, you can solve all of your customer's problems—packaging robotic welding units with the best fume collectors available. Our collectors and weld cell fume hoods are easy to install and can work with any robotic welding unit—or units.
A collector tailor-made for robotic welding cells is the Spire system. This system is perfect for automotive suppliers and other factory environments where space is at a premium. We build safety, energy savings and efficiency into every piece of equipment we make.
The Spire unit is a flexible, cost-effective alternative to a centralized ducted system. Each unit provides filtration for an individual welding cell. It's a powerful system that can keep up with the heavy demands of robotic welding in a high-production factory. Fire suppression is a high priority, as well. Our proprietary Delta3 spark arrestance system comes standard with every unit and provides superior fire safety. We also designed the unit to keep maintenance at a minimum—filter changes are fast and easy, and our proprietary ePad Control Panel makes upkeep headache-free.
RoboVent's Streamline Hood is the perfect companion for a Spire unit. It can accommodate any arrangement of robotic welding cells, from a single unit to a variety of configurations, including turntable, Ferris wheel or headstock/tallstock. Our modular design makes installation and modification quick and easy.
We know that no two clients are the same, and we are committed to finding the right solution. In addition to our space-saving Spire configuration, you can also choose from our traditional ducted configurations and our FloorSaver system. The latter maximizes your floor space by stacking the collector right on top of the weld cell hood.
With 12 offices across North America and a growing presence worldwide, we can be wherever you are. By forging this relationship, you can offer your customers an all-in-one package and build air quality right into your solution. Contact us to find out how easy it is to integrate RoboVent clean air solutions into your robotic welding plans.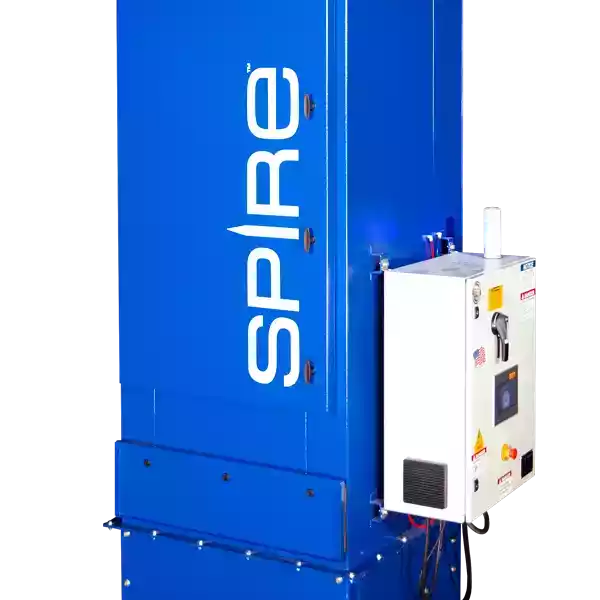 Fume Collection Challenges in Robotic Welding
The dangers of weld fumes are well known. The regulatory environment, however, is an ever-shifting landscape. RoboVent understands both. We understand permissible exposure limits (PEL's) and why they are mandated in workplaces. The extreme heat involved in welding creates fumes with metal particulates less than a micron in diameter. The smaller the particulate, the easier it is inhaled and absorbed into the body. Toxic substances, such as hexavalent chromium, can travel in these fumes. Exposure to this substance, and others, is known to cause cancer and other serious health problems. A comprehensive fume collection system is necessary to protect workers' health and to comply with federal regulations.
RECOMMENDED SOLUTIONS
OTHER SOLUTIONS
TOTAL FILTRATION PARTNER
RoboVent is your full turnkey resource for clean air in industrial environments. From facility testing and engineering, to installing equipment, providing replacement filters and preventive maintenance, RoboVent is ready to manage the whole process.
CONTACT US
Contact one of our industrial dust experts to gain the advantage against dust-generating processes and applications.