DUST CONTROL SOLUTIONS FOR SILO FILING AND DRY MIXING
Silo filling and dry mixing are extremely dusty processes. The volume of dust produced while grains and other dry bulk food ingredients are moved, along with the unique physical characteristics of grain silos and conveyors, requires specialized dust control solutions.
During silo filling and dry mixing, product is conveyed into the silo using high-speed pipes or a pneumatic conveyor. This process generates both a lot of dust and excess air inside the silo. In addition to controlling the dust, the solution must vent the excess air to prevent too much pressure from building up inside the silo.
Bin Venting is used to create a relief point and vent excess air from the silo. To prevent dust from escaping the silo, this is typically done by mounting a dust collector directly to the top of the silo. Filtered air is vented to the outside. Dust from the filters can be pulsed right back into the silo, where it settles back with the grain. Bin venting using the dust collector prevents air pressure from building up inside the silo while it is filled, while simultaneously keeping dust contained inside the silo. Bin venting can also be accomplished through natural aspiration or with forced airflow using a fan to pull air from the silo.
Additional considerations for design of a dust control system for silo filling and dry mixing include:
Combustion mitigation: Special care must be taken when collecting combustible food processing dusts to minimize the risks of an explosion inside the dust collector. The dust collector should be equipped with a deflagration system to prevent pressure waves from propagating back into the silo or facility if an explosion should occur. A separate deflagration system must be in place for the silo itself; venting of the silo should not be done through the bin vent.
Filtration: An appropriate filter media must be selected for the high volumes of dust produced by these processes. A pulsing system is also needed to pulse off excess dust on a regular basis. The right filter will allow excess dust to easily pulse off, so the filter does not become loaded too soon.
Airflow: The dust collector must have high airflow to keep up with the volume of dust generated and vent excess air as it enters the silo. Airflow is measured in Cubic Feet per Minute (CFM). It is important to ensure that the dust collector has a high enough CFM rating for effective bin venting and dust control.
Maintenance: Since these dust collection systems are generally remote, it is important to have a dust collector and filter combination that will reduce maintenance requirements. A remote pressure drop sensor is useful to detect excess pressure drop that indicates that filters need to be changed.
Dust collection for silo filling, dry mixing and conveyance of bulk food goods requires unique and customized solutions. Our engineers will evaluate your processes and help you select the right dust collector and filter media. We can also design an industrial ventilation and makeup air solution for you to ensure optimal dust collection, reduce cross-contamination concerns and mitigate health and safety hazards.
RoboVent can also help you meet OSHA and NFPA regulatory requirements and safety guidelines for management of combustible dusts. We can conduct a dust hazard analysis (DHA) for your operations under the NFPA Combustible Dust Standard (NFPA 652) and put dust control systems in place to mitigate the risks of a combustible dust explosion from grain and food dust.
Our experienced air quality engineers will work with you through the whole process, including needs analysis, system design and engineering, collector and ductwork installation, filter selection, HVAC system integration, startup and commissioning, and aftercare and service.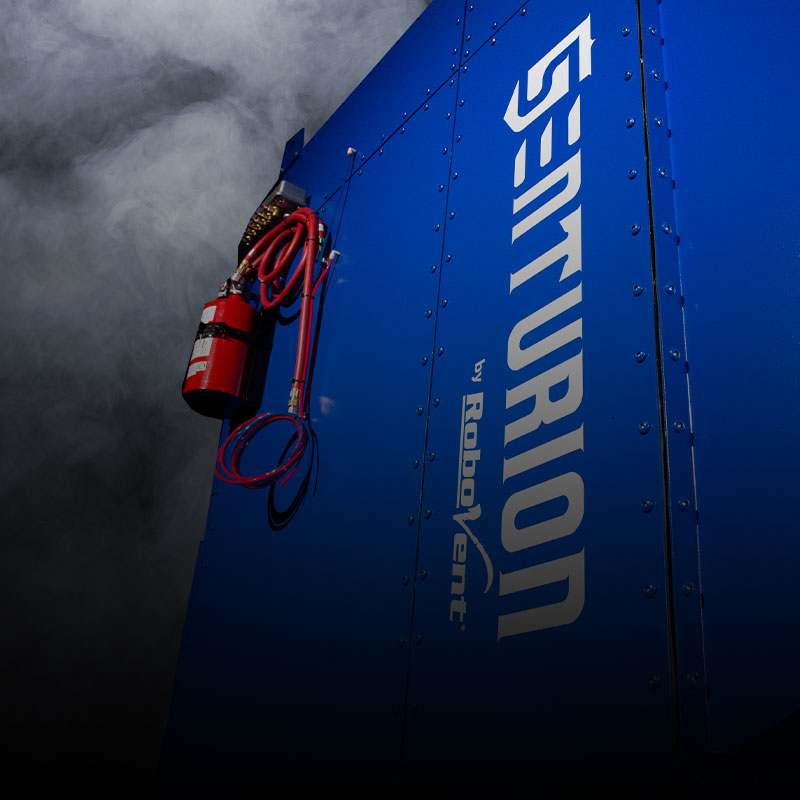 Dust Collection Challenges for Bulk Food Material Handling
Moving, mixing and storing bulk dry ingredients creates a large amount of dust, which can build up in silos, storage bins and conveyor systems if not controlled. Some of the biggest challenges at this stage of the food processing industry are:
Regulations for Bulk Food Ingredient Handling
The food processing industry is highly regulated. Companies involved in transport, silo filling or dry mixing of bulk dry ingredients are subject to both food safety regulations from the Food and Drug Administration (FDA) and U.S. Department of Agriculture (USDA) and occupational safety regulations from the Occupational Safety and Health Administration (OSHA) and National Fire Prevention Association (NFPA). Some of the most critical regulations for this stage of the food processing industry include the following.
RECOMMENDED SOLUTIONS
OTHER SOLUTIONS
TOTAL FILTRATION PARTNER
RoboVent is your full turnkey resource for clean air in industrial environments. From facility testing and engineering, to installing equipment, providing replacement filters and preventive maintenance, RoboVent is ready to manage the whole process.
CONTACT US
Contact one of our industrial dust experts to gain the advantage against dust-generating processes and applications.