DUST CONTROL SOLUTIONS FOR FOOD PACKAGING
Food packaging is typically done in cleanroom or near cleanroom conditions to prevent fugitive dust created during the packaging process from settling on the final package or in between interior and exterior packaging. There are several considerations to keep in mind when designing a dust control solution for food packaging.
Enclosure/source capture: Many packaging stations are easily enclosed to contain dust for source capture. If the process cannot be enclosed, it is possible to create a custom hood to draw dust away from the packaging line as it is created. It is especially important in the packaging line to collect dust as close to the source as possible. That may require specialized hoods to collect the small puffs of dust created during bag filling, box filling or movement of product on conveyor systems. Positive and negative pressure zones can also be used to prevent dust from earlier processes and conveyor systems from propagating into the final packaging lines.
Dust collector location: As in the processing lines, the dust collector for the packaging area will be located outside and will vent filtered air to the outside. This prevents re-contamination of food and food packaging when the filters are changed or dust collector bin is emptied.
Makeup air and filtration: Because air is usually vented outside, a makeup air system will also be required to maintain the right air pressure inside the facility. HEPA filtration in the HVAC or makeup air system will ensure that air that enters the facility is clean and does not introduce any contamination into food packaging lines. It is important to consider airflow patterns within the room when adding a makeup air or HVAC system so that air discharged in the room does not interfere with dust collection.
Airflow: Because the packaging environment is sterile and temperature-controlled, the dust control solution should be designed to minimize the amount of air required to remove the dust. This will ensure that you are not wasting energy by venting too much conditioned air to the outside. Proper enclosure and hood design will help to minimize the amount of air required to remove food dust during the packaging process. It is also important to pay attention to the airflow patterns within the room.
Filter media selection: Selecting the right filter for the dust collection system is also very important at the packaging stage. Many packaged food dusts are hygroscopic, meaning they readily absorb moisture from the air. In a humid environment, these dusts may cake or form a crust on filters. A washable filter media can extend filter life considerably in these situations.
Dust collection for food packaging is highly customized for the packaging line. Our engineers will evaluate your packaging processes and help you select the right dust collector and filter media. We can also design an industrial ventilation and makeup air solution for you to ensure optimal dust collection, reduce cross-contamination concerns and mitigate health and safety hazards.
Our experienced air quality engineers will work with you through the whole process, including needs analysis, system design and engineering, collector and ductwork installation, filter selection, HVAC system integration, startup and commissioning, and aftercare and service.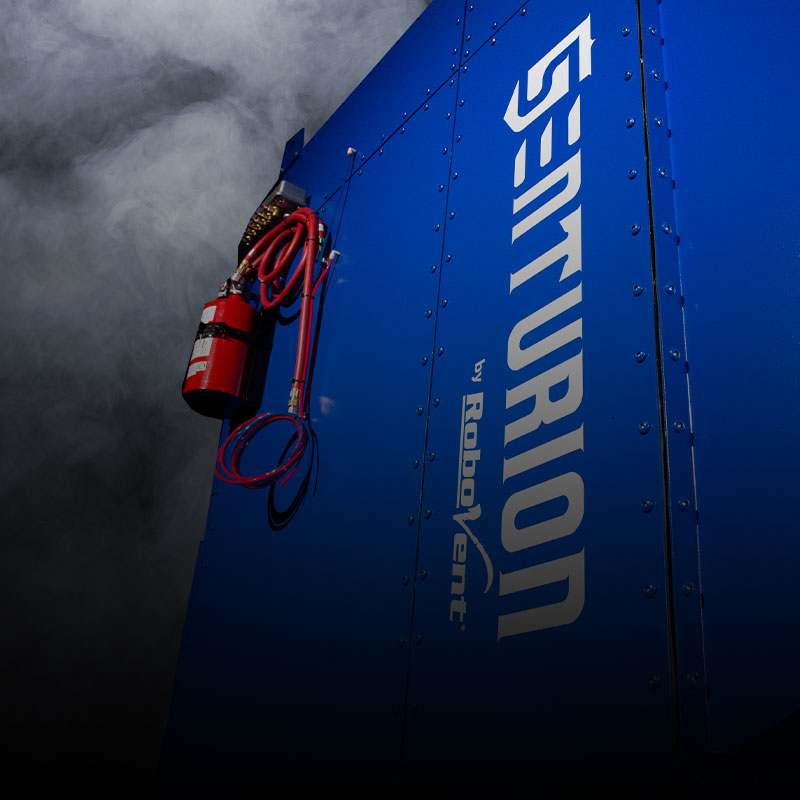 Dust Collection Challenges for Food Packaging
Dust is often created during packaging as finished product is moved by conveyor and during the box or bag filling process. Puffs of compressed air used during bag filling generate little puffs of dust with each package filled, which will accumulate over time if they are not collected. This creates several challenges during the packaging process.
Food Processing Regulations for Food Packaging
The food processing industry is highly regulated. Companies involved in food packaging are subject to both food safety regulations from the Food and Drug Administration (FDA) and U.S. Department of Agriculture (USDA) and occupational safety regulations from the Occupational Safety and Health Administration (OSHA) and National Fire Prevention Association (NFPA). Some of the most critical regulations for the packaging stage of the food processing industry are as follows.
RECOMMENDED SOLUTIONS
OTHER SOLUTIONS
TOTAL FILTRATION PARTNER
RoboVent is your full turnkey resource for clean air in industrial environments. From facility testing and engineering, to installing equipment, providing replacement filters and preventive maintenance, RoboVent is ready to manage the whole process.
CONTACT US
Contact one of our industrial dust experts to gain the advantage against dust-generating processes and applications.