SOLUTIONS FOR LASER WELDING FUME AND DUST CONTROL
RoboVent offers robust dust and fume control solutions for manufacturers using laser beam welding–like RoboVent Senturion, our most powerful and versatile dust collector for industrial applications. Senturion takes air filtration technology to a new level, maximizing effectiveness and reducing maintenance time. Whether you need dust collection for a single laser welding station or a whole-facility solution that controls fumes and dust for multiple applications, we've got you covered.
We are your turnkey solution provider for laser welding fume control. We can: 
Evaluate your air quality and determine your emission risks

Analyze your laser welding processes and fume challenges

Design and install a weld fume extraction system that maximizes efficiency 

Help you maintain your system for optimal performance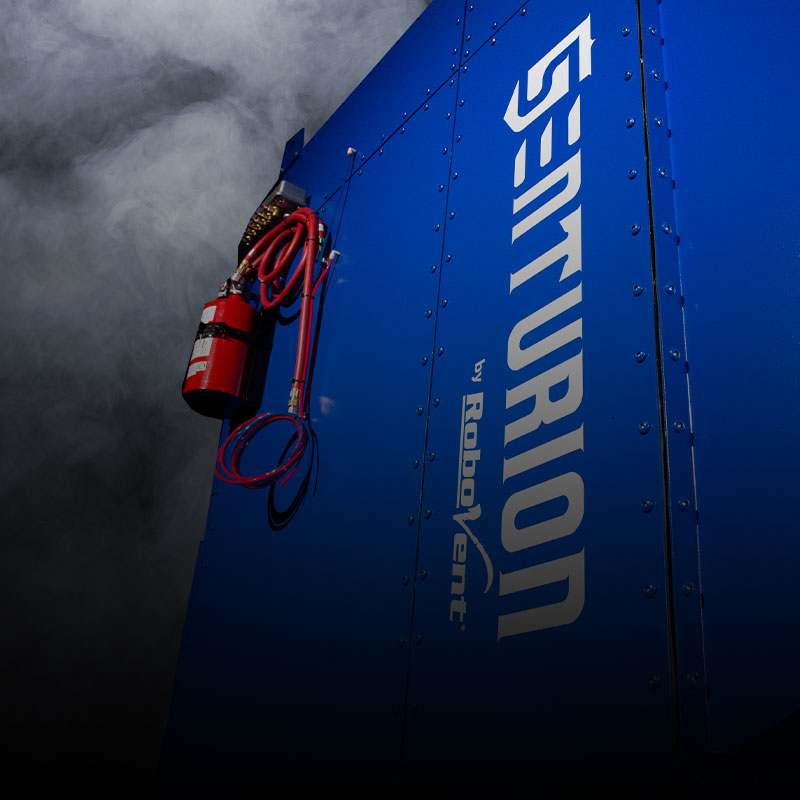 What is Laser Welding?
Laser beam welding (LBW) is a welding process that uses a laser beam to bond two pieces of material. It can be used to bond both metals (such as stainless steel, carbon steel, high-strength low-alloy (HSLA) steel, aluminum and titanium) and thermoplastics. Its versatility, high throughput and precision have made laser welding popular across many industries, including aerospace, military and defense, automotive, electronics, medical device manufacturing and more.
Problems with Laser Welding Emissions
Like other forms of welding, laser welding produces hazardous dust and fumes that must be controlled. Laser welding is usually (though not always) conducted without the use of filler materials or consumable weld wire, which means most of the welding emissions come from the base material. The highly concentrated heat of the laser produces fumed particles of the base material (e.g., metal or plastic). In some cases, a filler metal is used to strengthen the bond. Welding consumables add significantly to the total weld fume produced. Laser welding emissions cause problems for both people and equipment.
Regulations for Laser Welding
Laser welding falls under the same regulations imposed for other forms of welding. Laser welding emissions are regulated by the Occupational Safety and Health Administration (OSHA) to limit worker exposure to toxic or hazardous respirable dust and fumes. Failure to control dust in areas where workers may be exposed can result in serious fines and legal action. Manufacturers must also follow Environmental Protection Agency (EPA) regulations for hazardous emissions from laser welding and other industrial processes. An effective weld fume collection system ensures that manufacturers can meet both worker safety and environmental regulations for laser welding emissions.
Considerations in Dust and Fume Emission Control for Laser Welding
Laser welding fume extraction creates significant challenges for manufacturers due to the high production volumes typical of laser welding, the extremely small size of the particulate, and the cleanliness requirements for the laser enclosure. Source capture and air filtration using a cartridge-style dust collector is highly effective for most laser welding applications.
RECOMMENDED SOLUTIONS
OTHER SOLUTIONS
TOTAL FILTRATION PARTNER
RoboVent is your full turnkey resource for clean air in industrial environments. From facility testing and engineering, to installing equipment, providing replacement filters and preventive maintenance, RoboVent is ready to manage the whole process.
CONTACT US
Contact one of our industrial dust experts to gain the advantage against dust-generating processes and applications.