SOLUTIONS FOR RESISTANCE WELDING FUME AND DUST CONTROL
RoboVent offers robust dust and fume control solutions for manufacturers using thermal spray processes. RoboVent Senturion is a rugged, high-powered dust collector that minimizes maintenance and operating costs for resistance welding applications.
A RoboVent solutions engineer can design an effective dust control system for your resistance welding application that fully meets ACGIH recommendations.
We can help you evaluate the health and combustion risks of your resistance welding emissions and design a comprehensive air quality solution, including resistance welding dust containment and collection, ductwork design, and ventilation and make-up air.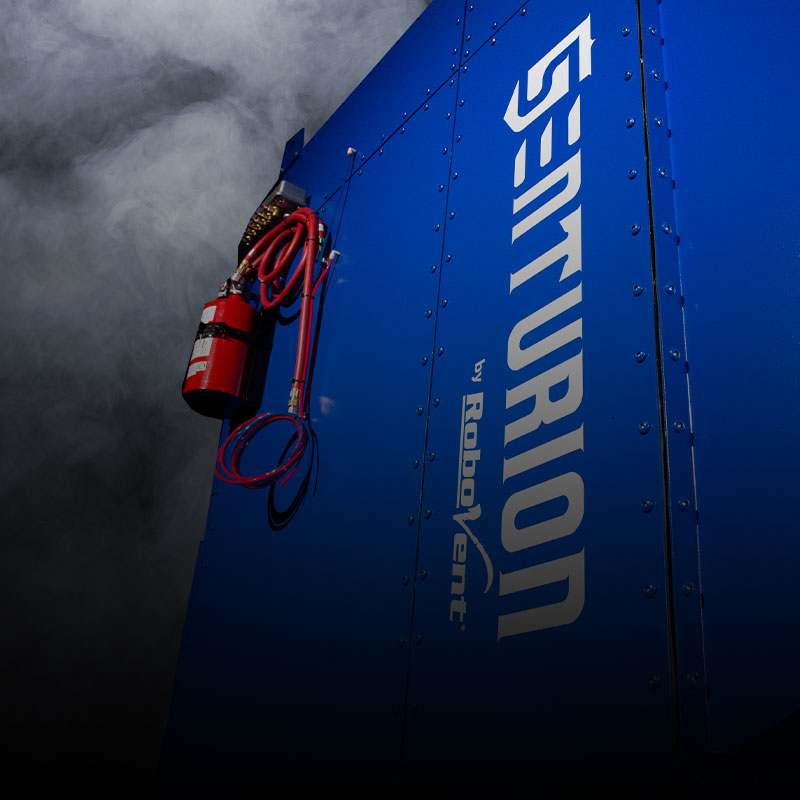 Considerations in Dust and Emission Control for Resistance Welding
ACGIH has created recommended capture procedures for resistance welding that should be followed by manufacturers. For low-volume manual resistance welding, a good industrial ventilation system that pulls air up and away from the breathing zone of the welder may be enough to keep weld fumes, gases and vapors in check. However, in most cases, a dedicated dust collection and filtration system is recommended for resistance welding. When welding galvanized steel or painted, coated or lubricated parts, it is essential to take the gas and/or liquid phases of the emissions into consideration when designing the solution.
Air Quality Issues with Resistance Welding
Uncontrolled fumes and gases produced by resistance welding of galvanized or coated materials can create several problems, including:
Health impacts for exposed workers, especially for manual resistance welding.
Build-up of particulate in large robotic resistance welding cells, which can cause equipment short-outs.
Problems with HVAC or make-up air units due to excessive loading of filters.
Combustion risk if weld fume is allowed to build up in an enclosed space.
Housekeeping issues as fumed particulate settles out of the air and onto horizontal surfaces.
Emissions from Resistance Welding vs. MIG or Stick Welding
Resistance welding uses a combination of pressure and heat created by an electric current to bond two pieces of metal. Force is applied to push the pieces of metal together. Then, a strong electric current is passed through the metal at the joint. This process generates enough heat to melt the edges of the joint, which are then bonded together as the metal resolidifies. Resistance welding processes include:
Resistance Welding with Galvanized Metals
Galvanized metals are commonly used in the metalworking industry. Galvanization is the process of applying a protective zinc coating to metal. The zinc coating provides long-lasting protection against rust for products made of iron or steel. Galvanization works because zinc oxidizes more readily than the base metal. In essence, it corrodes first to prevent oxygen from reaching the metal underneath. Sometimes, chromate is added to the zinc coating to increase its oxidation potential. Chromating makes galvanized parts more durable.
Health Risks of Resistance Welding with Galvanized, Coated or Lubricated Metals
Resistance welding with galvanized, coated or lubricated metals creates special health and safety concerns. Almost all coatings and lubricants vaporize to some degree during the welding process. As with all welding applications, thermal processes generate very fine particulate, vapors, fumes and gases that are inhaled deeply into the lungs. The exact health risks will depend on the composition of the coatings or lubricant in use.
Regulations for Resistance Welding and Galvanized Coatings
The Occupational Safety and Health Administration (OSHA) has issued specific regulations for many different metallic and non-metallic dusts, fumes and vapors. These are expressed as Permissible Exposure Limits (PELs), which are measured and averaged over a worker's 8-hour shift. Manufacturers are responsible for ensuring that workers are not exposed to hazardous dusts in levels above the PELs. Failure to control dust in areas where workers may be exposed can result in serious fines and legal action. For some highly toxic substances, OSHA also sets a separate action limit; exposures above this limit may require specific compliance activities such as blood testing.
RECOMMENDED SOLUTIONS
OTHER SOLUTIONS
TOTAL FILTRATION PARTNER
RoboVent is your full turnkey resource for clean air in industrial environments. From facility testing and engineering, to installing equipment, providing replacement filters and preventive maintenance, RoboVent is ready to manage the whole process.
CONTACT US
Contact one of our industrial dust experts to gain the advantage against dust-generating processes and applications.