DUST CONTROL SOLUTIONS FOR FOOD CUTTING, GRINDING, BLENDING AND BATCH MIXING
Dust control solutions for companies involved in processing food ingredients and manufacturing finished food products will vary depending on the type and volume of dust produced, the specific cross-contamination and allergen concerns at the facility, the processes being used and how easily those processes can be enclosed. These are a few of the special considerations in designing a dust control solution for food processors and manufacturers.
Enclosure and source capture: At the processing stage, it is helpful to have hoods or enclosures around dust-creating processes such as grinding or mixing and at transfer points and conveyors. These might have to be custom-built to accommodate the production line. In general, food processing dust should be captured as close to the source as possible. It can also be helpful to isolate sequential production processes to prevent dusts from migrating from earlier processes (such as cutting and grinding of ingredients) to later processes (such as cooking or baking). This can be accomplished using positive and negative pressure zones to control airflow between processes.
Dust collector location: The dust collector is typically located outside in food production facilities. This is to prevent dust from re-contaminating the facility during filter changes or bin emptying. The filtered air is also typically vented outside to reduce cross-contamination and microbial contamination risks.
Makeup air and filtration: Because air is usually vented outside, a makeup air system will also be required to maintain the right air pressure inside the facility. HEPA filtration in the HVAC or makeup air system will ensure that air that enters the facility is clean and does not introduce any contamination into food processing lines.
Filter media selection: Selecting the right filter for the dust collection system is also very important at the processing stage. Many food dusts are hygroscopic, meaning they readily absorb moisture from the air. If the environment is very humid or food production processes release water vapor into the air, the dust hitting the filters will be very wet. Wet dust tends to cake or (in the case of sugary dust) form a crust on the filters. A washable filter media can extend filter life considerably in these situations.
Combustion mitigation: Special care must be taken when collecting combustible food processing dusts to minimize the risks of an explosion inside the dust collector. The dust collector should be equipped with a deflagration system to prevent pressure waves from propagating back into the facility if an explosion should occur.
Dust collection for food processing must be customized for the process and production line. Our engineers will evaluate your processes and help you select the right dust collector and filter media. We can also design an industrial ventilation and makeup air solution for you to ensure optimal dust collection, reduce cross-contamination concerns and mitigate health and safety hazards.
RoboVent can also help you meet OSHA and NFPA regulatory requirements and safety guidelines for management of combustible dusts. We can conduct a dust hazard analysis (DHA) for your operations under the NFPA Combustible Dust Standard (NFPA 652) and put dust control systems in place to mitigate the risks of a combustible dust explosion from food processing dust. We can also help you evaluate your processes and design a dust control solution that will minimize the risks of cross-contamination and microbial growth in food production lines.
Our experienced air quality engineers will work with you through the whole process, including needs analysis, system design and engineering, collector and ductwork installation, filter selection, HVAC system integration, startup and commissioning, and aftercare and service.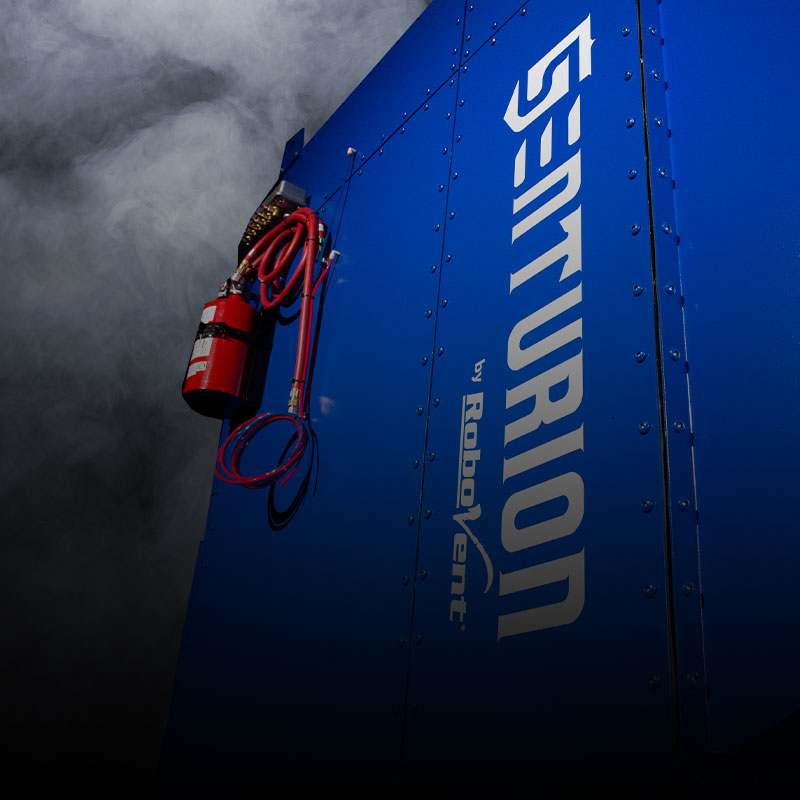 Dust Collection Challenges for Food Cutting, Grinding, Blending and Batch Mixing
The dust control challenges at this stage of the food processing industry vary widely depending on the ingredients being handled, the actual processes used and the physical layout of the facility where food production activities take place. Food safety and cross-contamination concerns are generally the biggest considerations at this stage.
Food Processing Regulations for Food Cutting, Grinding, Blending and Batch Mixing
The food processing industry is highly regulated. Companies involved in milling, cutting, grinding, batch mixing, blending and cooking of food ingredients are subject to both food safety regulations from the Food and Drug Administration (FDA) and U.S. Department of Agriculture (USDA) and occupational safety regulations from the Occupational Safety and Health Administration (OSHA) and National Fire Prevention Association (NFPA). Some of the most critical regulations for this stage of the food processing industry are as follows.
RECOMMENDED SOLUTIONS
OTHER SOLUTIONS
TOTAL FILTRATION PARTNER
RoboVent is your full turnkey resource for clean air in industrial environments. From facility testing and engineering, to installing equipment, providing replacement filters and preventive maintenance, RoboVent is ready to manage the whole process.
CONTACT US
Contact one of our industrial dust experts to gain the advantage against dust-generating processes and applications.