SOLUTIONS FOR MINING AND MINERAL PROCESSING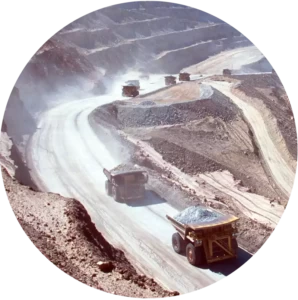 RoboVent offers robust dust control solutions for the mining and mineral processing industry. A RoboVent solutions engineer can design an effective dust control system for your mining and mineral processing application that fully meets ACGIH and NIOSH recommendations. We can help you:
Evaluate the hazard level and combustion risk of your mining dust
Design and install a dust control solution tailored to your application
Maintain your dust collection system for maximum longevity and efficiency
Ensure compliance with regulations including EPA air quality standards for PM10 and PM2.5 and OSHA, MSHA and NFPA requirements.
RoboVent Senturion is a heavy-duty, versatile dust collector suitable for mining and mineral processing applications. Senturion features:
A modular design that can be scaled up for heavy-duty dust control and outfitted with abrasion-resistant options for mining applications.
An advanced filtration system for the smallest footprint per CFM in the industry.
Heavy-duty cabinet construction, powder-coated inside and out, with optional UHMW lining.
DUST CONTROL CHALLENGES FOR MINING AND MINERAL PROCESSING
Dust control for mining and mineral processing has a number of challenges due to the volume, abrasiveness and toxicity of mining dust. While the specific challenges vary by mineral or ore type and process, there are some general challenges common to all mining applications.
HEALTH RISKS OF MINING AND MINERAL PROCESSING DUST
Mining and mineral or ore processing produce heavy, abrasive dust that is irritating to the eyes, skin and tissues of the nose, throat and lungs. Dust produced by mining operations may be heavy enough to create visibility challenges or slip-and-fall hazards. Mining dust may also contain elements that are toxic when inhaled.
Fine dust produced when crushing, grinding and transporting minerals and ores can be inhaled deeply into the lungs, where it becomes embedded in lung tissue.
REGULATIONS FOR MINING AND MINERAL PROCESSING
CONSIDERATIONS IN DUST CONTROL FOR MINING AND MINERAL PROCESSING
Because of the diversity of dust types and processes represented across the mining and mineral processing industry, there is no "one size fits all" solution for dust control in mining. The National Institute of Occupational Health and Safety (NIOSH) has created the Dust Control Handbook for Industrial Minerals and Mining as an overview of basic principles. Companies should also follow ACGIH general guidelines for industrial ventilation and filtration when designing a dust control solution.
CONTACT US
Contact one of our industrial dust experts to gain the advantage against dust-generating processes and applications.