DUST CONTROL SOLUTIONS FOR SEED CONDITIONING
RoboVent offers robust and innovative dust control solutions for all stages of the seed processing industry, including seed cleaning, drying, fine cleaning, grading/gravity separation, seed treatment/seed coating, silo filling/storage and seed packaging. A RoboVent solutions engineer can design an effective dust control system for your seed conditioning application that fully meets ACGIH and NIOSH recommendations. We can help you:
Evaluate your dust-producing processes and combustion risk.
Design and install a dust control solution tailored to your seed conditioning application.
Maintain your dust collection system for maximum longevity and efficiency.
RoboVent Senturion is a heavy-duty, versatile dust collector suitable for seed conditioning applications. Senturion features:
Advanced filters and a space-saving design for a footprint that is 20% smaller per CFM compared to traditional dust collection systems.
Modular design to allow the unit to be fit into the space envelope for the facility.
Heavy-duty cabinet construction with powder coating inside and out for use in outdoor conditions.
Optional abrasive-resistant intakes and baffle systems to protect the dust collector filters.
Maintenance-saving features to reduce downtime.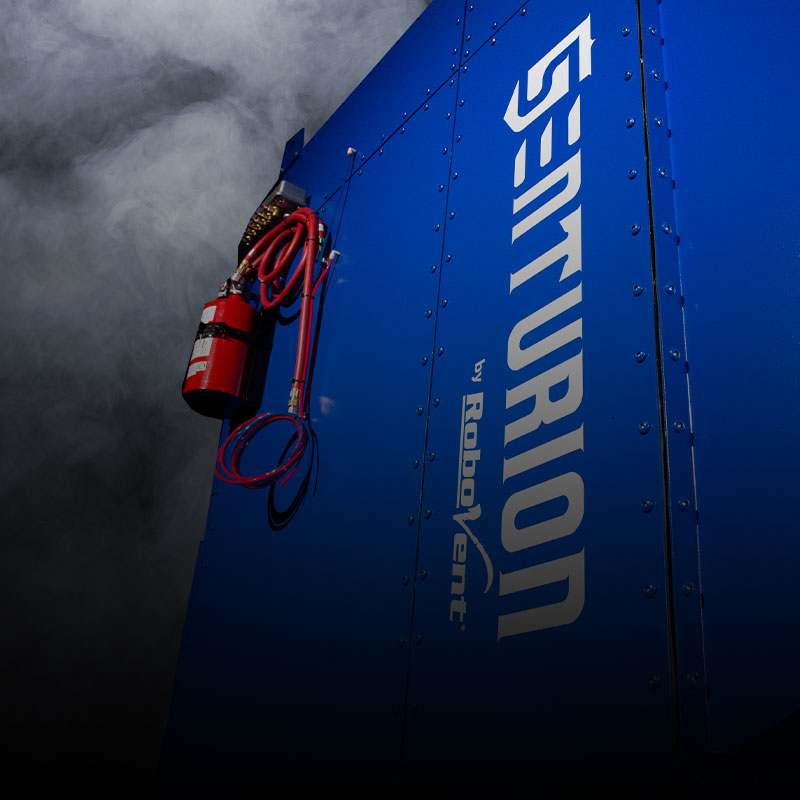 Seed Separation and Processing Operations
Seed separation and processing  encompasses a large number of distinct stages. Processing  is needed for all kinds of seeds, including grains and cereals (e.g., corn, rice, wheat, oats and barley), soybeans, oilseeds and pulses, vegetables and other crop types, grass seed, and flowers and ornamentals. During seed separation and processing, raw seed is separated from contaminants (such as weeds, plant material, trash, insects and other seed types), cleaned and prepared for commercial sale. Seed preparation and conditioning processes include:
Dust Control Regulations for Seed Conditioning
Companies involved in conditioning, processing, coating, transporting and packaging seeds and grains must meet general Occupational Safety and Health Administration (OSHA) regulations related to worker safety along with specific OSHA and National Fire Prevention Association (NFPA) standards for combustible dusts. Seed coaters may have to follow additional Environmental Protection Agency (EPA) regulations related to release of pesticides into the environment. Relevant standards include:
Considerations in Selecting a Dust Control Solution for Seed Conditioning Dust
Dust control solutions for the seed conditioning industry must be designed to handle large volumes of dust and reduce the very real risk of combustion. In addition, they must fit within the space constraints of the seed conditioning tower or facility. A well-designed dust collection and containment system will improve facility safety while reducing maintenance requirements for the dust collector. Here are some of the primary considerations in dust collector design for seed conditioning.
Dust Collection Challenges for Seed Separation and Processing
For the seed separation and processing industry, product cleanliness is paramount. Contaminants must not be allowed to reenter the processing lines, and fugitive dust must be controlled so that the final product is clean and dust-free for buyers. Many seed conditioning processes produce high volumes of coarse, abrasive dust, which creates challenges for dust collection equipment. In addition, dust produced by seeds and grains is highly combustible. Dust control challenges for seed separation and processing include:
RECOMMENDED SOLUTIONS
OTHER SOLUTIONS
TOTAL FILTRATION PARTNER
RoboVent is your full turnkey resource for clean air in industrial environments. From facility testing and engineering, to installing equipment, providing replacement filters and preventive maintenance, RoboVent is ready to manage the whole process.
CONTACT US
Contact one of our industrial dust experts to gain the advantage against dust-generating processes and applications.