ENDUREX RMO CARTRIDGE FILTERS
Whether its ultra-fine dust, metal cutting fumes, or aggressive abrasive particulates, RoboVent Air Filters have you covered.
RoboVent's premium Endurex filter cartridges have been engineered to provide you the very best filtration protection for your plant and employees. Durable and proven, our filter media has been designed for outstanding performance in filtering fumes, smoke, dust, oil haze and other particulates/pollutants created during virtually any manufacturing process.
It's No Longer About Media Quantity. It's About Media Optimization.
Endurex RMO is truly the future in efficient filtration. By widening the pleat spacing in our proprietary filter media and ensuring that the pleats remain apart, we maximize the surface area of media available to dust and fume particles while maintaining the highest level of filtration efficiency. The result is a reduction in static pressure and a superior release of particulate. In short: longer filter life, using less media.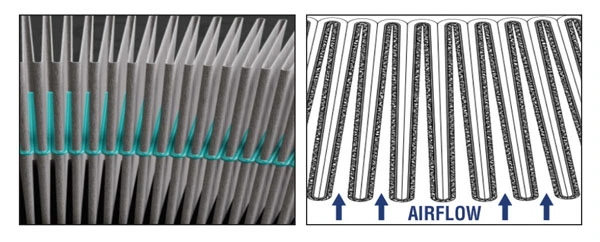 Endurex RMO Filter Design
RMO support keeps the filter pleats at optimum spacing, allowing for maximum loading on the media, and more effective pulse cleaning. RMO support ribs are continuous for the full length of the pleats ensuring no pleat collapse. RMO structures ensure media surface area is maximized, and the entire filter is used to its full potential.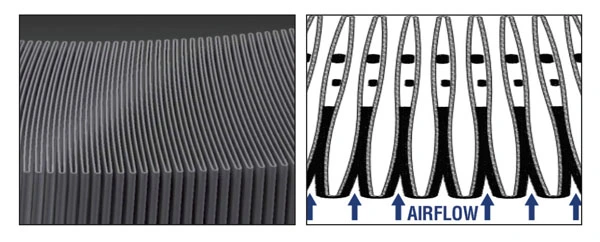 Traditional Filter Design
In traditional filter design, the pleats are often pinched closed. The clean area seen on the inside of these pleats indicates that the dirty air never reached this media, resulting in less effective loading and ineffective pulse cleaning — and as a result, short filter life.
Discover the Endurex™ A15: The Smarter Choice
The RoboVent A15 filter is a breakthrough in filter technology. With RMO technology and proprietary media, the Endurex A15 sustains filter life 1.5 to 2 times longer than standard filters. Ideal for dry, dusty particulate, the Endurex A15 filter can be used on many applications. As you can see in the graph, the filter provides superior filtration with low static pressure. The low filter pressure improves collector performance, while the MERV 15 nanofiber media efficiently filters particulate down to 0.1 micron in size.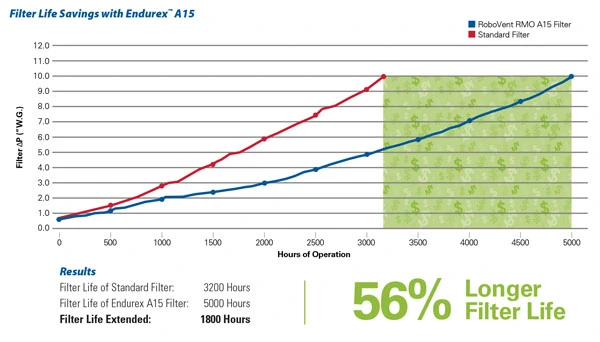 ENDUREX FILTERS ONLINE CATALOG
RoboVent Endurex Filters offer superb, industrial grade filtration. Find what you need in our online filter catalog. Browse, filter and sort from hundreds of available filters, parts and equipment. Our catalog lets you select from different sizes and quality to find the correct filter for your application. Once you've found your filter, use the inquiry cart to notify our sales team and place an order or get more information on those products.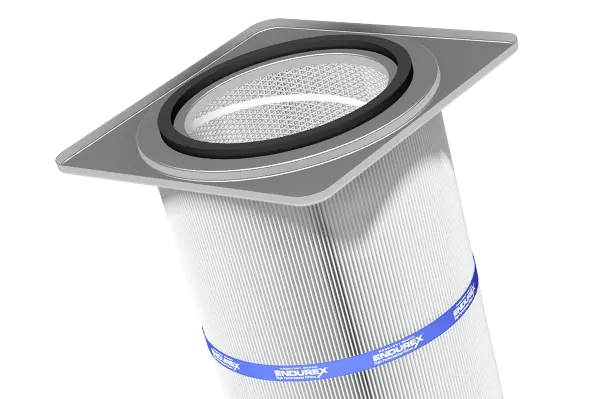 Endurex B16
PTFE Cartridge Filter
A premium filter offering superior performance in both filter efficiency and longevity. The PTFE coating allows collected material to shed easily and quickly, extending the filter life and providing a very high level of filter efficiency. The Endurex B16's rating level approaches HEPA filtration standards.