Futaba: Seamless Protection for Stainless Steel Welding
Futaba Indiana of America Corporation is a parts supplier for Toyota manufacturing plants, operating out of Vincennes, Indiana, since 2002. Its 770 employees work in two shifts producing parts for Toyota plants across the United States and Canada. Futaba was recently given a new project by Toyota that challenged them.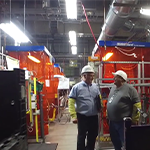 The Problem
For years, Futaba had primarily produced body parts, but the new project called for them to produce a special exhaust system. The Futaba plant would need a new welding configuration, which would create new weld fume challenges. Futaba called RoboVent.
The new Toyota part—the advanced exhaust system—was designed to be seamless, which meant a highly technical welding process would be needed. Plus, the exhaust system would be made of stainless steel, which meant the weld fumes that came from the welding process would be more dangerous than the fumes from most other metals.
In particular, the process would produce hexavalent chromium, a highly regulated carcinogenic component of weld fumes that is produced when welding stainless steel. The challenge was serious: Futaba needed to be able to create a great product reliably while also safeguarding its employees and meeting OSHA regulations.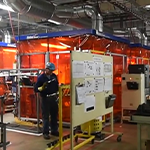 The RoboVent Solution
RoboVent has almost two decades of experience controlling weld fumes, and we applied our engineers to the challenge. Futaba had designed a backdraft solution for their manual welding stations; RoboVent did the engineering work for them and calculated the airflow requirements.
Rich Haff, welding engineer at Futaba, reports, "I basically gave them CAD drawings, and they did the full design and implementation from that." After RoboVent crunched the numbers on weld fumes, airflow and filtration needs, we proposed a comprehensive system.
RoboVent's system included some of its leading technology, including a variable-frequency drive (VFD) and cutting-edge filters. Haff says, "Your systems allow your filters to last longer." Delta3 spark arrestance systems were also incorporated into the units to mitigate fires. As Haff testifies, "If we go down, we have to be up and running in eight to twelve hours. Fires don't just impact us, it impacts the OEM as well. Since we're a Tier 1 supplier, this is a huge consideration for us. Down time impacts everyone in the channel."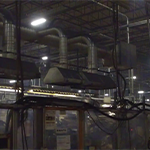 The Results
Futaba's experience with RoboVent's engineering services and dust collectors carried them through the set-up and prototyping stages successfully. Futaba was approved to supply Toyota the specialized part. Haff says, "I was impressed with the installation more than anything. They were professional, polite and knew their business and were very quick! They were able to come up with new ideas and implement them while they were on site."
Early stages of production have seen great improvements in air quality compared to other production lines. As Darren Youngblood, HR Manager, says, there are "noticeable differences since we have started with the RoboVent system. You can look through the factory and see the quality of air has improved."
The benefits of improved air quality extend to morale, as well. Zane Duckworth, EHS Manager, says, "When you walk in a plant and it's dingy and dusty and dark and you can see everything, I think it immediately gives you a negative attitude." Team members who work in a clean environment will feel better.