DUST CONTROL SOLUTIONS FOR BATTERY ELECTRODE PRODUCTION
RoboVent is working with battery manufacturers to design, install and maintain safe and effective dust control solutions for every stage of the manufacturing process, including electrode production. Industrial dust collectors like RoboVent Senturion provide an ideal solution for many electrode manufacturing processes, from material synthesis and mixing to electrode calendering and slitting. We can help you with: 
Dust collection and air filtration system design

for electrode manufacturing, including dust collector selection, ductwork, filter selection and regulatory compliance. 

OSHA and NFPA regulatory requirements and safety guidelines for management of combustible dusts, including the

dust hazard analysis (DHA) process

and

NFPA-compliant system design

. 

Operation and maintenance

of your dust collection system. 

Indoor air quality and

exposure testing

. 
Our experienced air quality engineers offer comprehensive dust collection system design services, including needs analysis, system design and engineering, collector and ductwork installation, filter selection, HVAC system integration, startup and commissioning, and aftercare and service.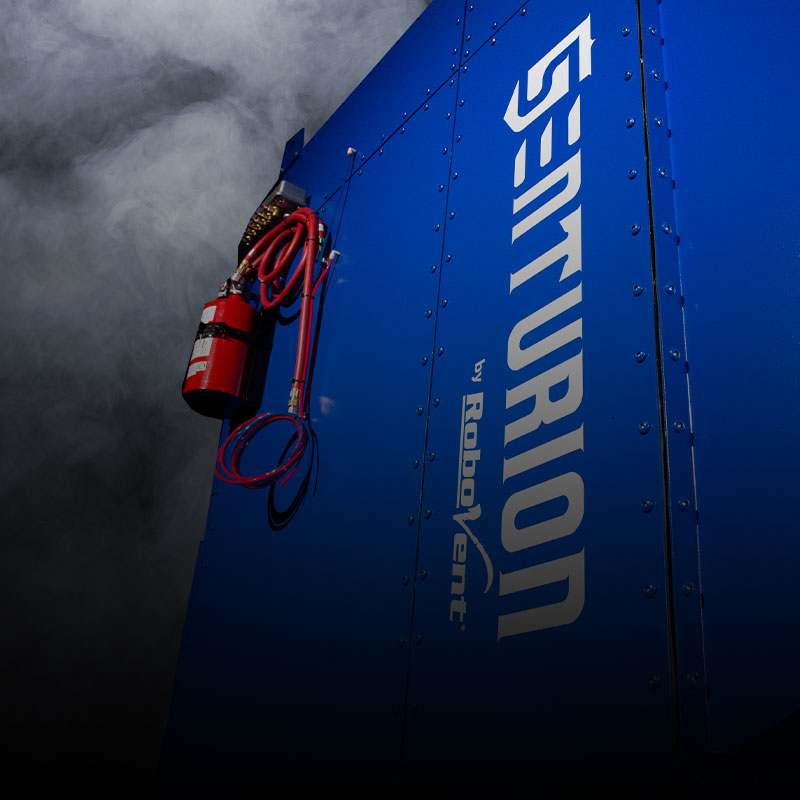 Dust-Creating Processes in Electrode Manufacturing
Electrode production is one of the dustiest parts of the battery manufacturing process. Electrode manufacturing varies widely among battery types; this article mainly focused on electrodes for Lithium-ion (Li-ion) batteries such as those used for electric vehicles (EVs) and consumer electronics. Dust is created during several processes for both cathode and anode preparation, including material preparation and mixing, slurry preparation, calendering, and slitting. Other processes, such as coating and drying, do not generate much dust themselves; however, it is important to have dust control systems in place to prevent dust from other processes from contaminating coating and drying lines.
Health and Safety Risks for Electrode Dust
Dust generated during electrode production in lithium-ion battery manufacturing can pose several health and safety risks to workers and the overall production environment. These include health problems from exposure to toxic dust created during battery production and combustion risk from clouds of fine electrode dust. Special care must be taken to protect workers and facilities from the risks of dust generated during electrode manufacturing.
Regulations for the Battery Industry
Battery manufacturers involved with electrode production must comply with all environmental, worker health and safety regulations set by national, state and local regulatory agencies. Proper dust control and containment are necessary to meet regulatory standards related to worker exposure, combustible dust safety, and environmental protection. These regulations include:
Dust Control Challenges for Electrode Production
Dust collection during electrode production in battery manufacturing presents several challenges due to the nature of the materials involved, the requirements for maintaining a clean environment, and the need to ensure worker safety. Some of the primary challenges include:
RECOMMENDED SOLUTIONS
OTHER SOLUTIONS
TOTAL FILTRATION PARTNER
RoboVent is your full turnkey resource for clean air in industrial environments. From facility testing and engineering, to installing equipment, providing replacement filters and preventive maintenance, RoboVent is ready to manage the whole process.
CONTACT US
Contact one of our industrial dust experts to gain the advantage against dust-generating processes and applications.