Industrial Dust Collector Must-Haves for Bulk & Powder Applications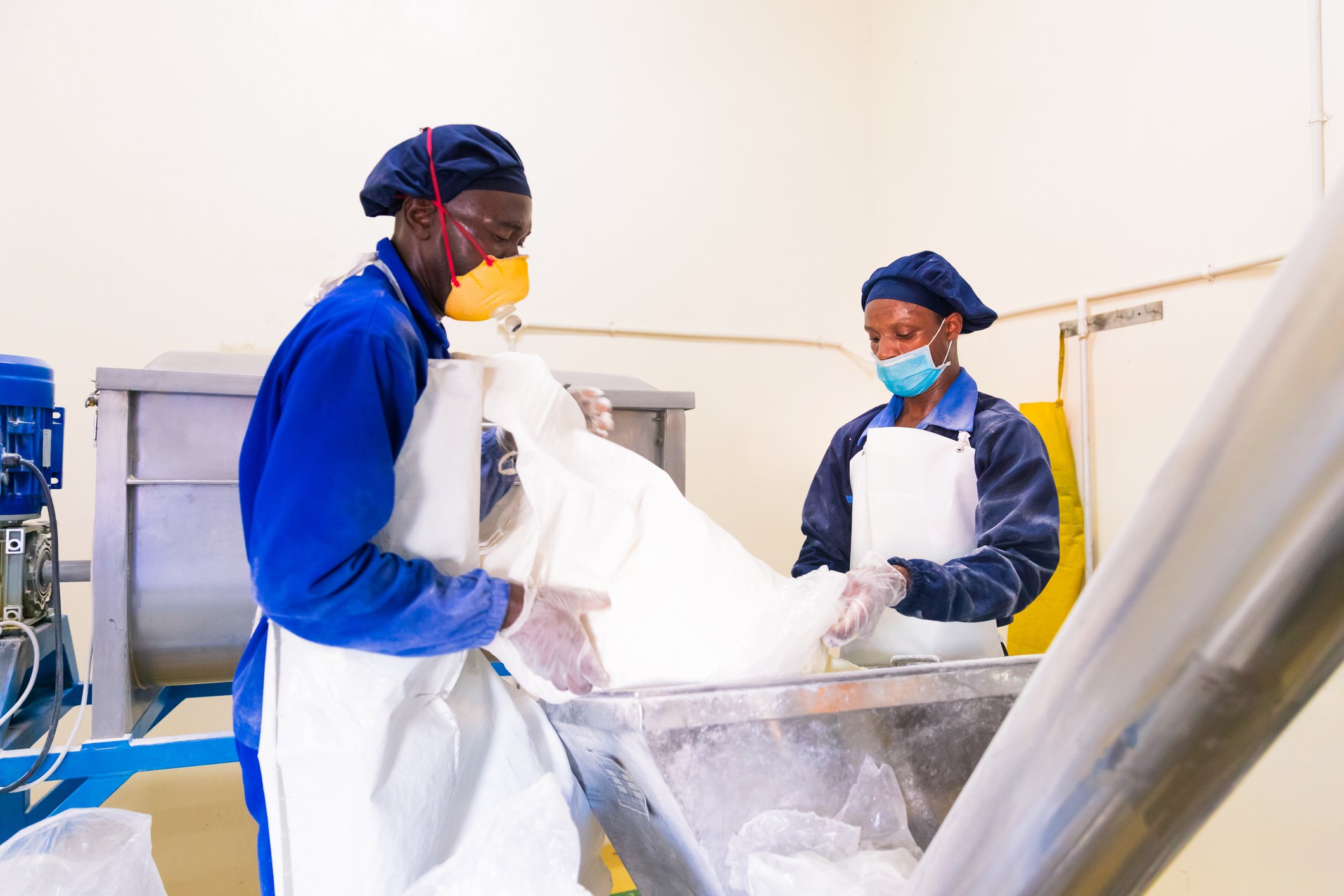 What kind of industrial dust collector do you need for bulk solids and powders? Bulk & powder applications typically generate heavy volumes of dust, which may be fine, heavy, sticky, static-y or combustible. Dust collector selection for bulk & powder applications must take into account the type and volume of dust produced as well as constraints imposed by the process and facility design. Here are important features you should look for in a dust collector for bulk solids and powders.
What Are Bulk & Powder Applications?
Bulk & powder applications include any processes where bulk solids (such as plastic or glass pellets, plastic resin, grains, nuts & seeds, granulated sugar, bulk pharmaceuticals/nutraceuticals, wood chips and solid chemicals) and fine powders (such as powdered sugar and starches, talc, powdered pharmaceuticals/nutraceuticals, and pigments) are handled, conveyed, mixed or processed. Applications include:
Conveying
Batch mixing and blending
Sorting, sifting and grading
Weighing and measuring
Storing/silo filling
Bag filling/carton filling
Considerations in Dust Collector Design for Bulk & Powder Applications
Bulk & powder dust collection requires a heavy-duty, high-CFM dust collector. But there are ways to cut down on space requirements, energy consumption and maintenance for your dust collector. These are some features you should look for when choosing a dust collector for bulk solids and powders.
Space Savings
Bulk & powder applications can generate large volumes of dust, requiring a high airflow (in cubic feet per minute, or CFM) for collection. If space is a concern, look for features that will help you cut down on the footprint of the industrial dust collector. Cartridge-style industrial dust collectors will have a smaller footprint than baghouse collectors with similar dust collection capacity, and they are suitable for the majority of bulk & powder applications. Look for these space-saving features in a cartridge-style industrial dust collector.
Advanced filter design: The filters are the heart of a dust collection system. Advanced filters (with more usable square feet of media) can reduce the floorspace requirements for your dust collector by reducing the number of cartridges required per CFM, allowing for a smaller overall footprint.
Modular construction: A modular dust collector can be sized more precisely for your application and designed to fit within your space constraints.
Indoor/outdoor suitability: Placing the dust collector outside provides maximum space savings for your facility. If that's the plan, make sure the dust collector is built to withstand the elements. Look for heavy-duty steel construction with powder coating both inside and out.
Filter Protection
Heavy dust from moving and processing bulk solids and powders can load filters quickly. Choose the right filters for the job and look for filter-saving dust collector features.
Filter Media Selection: It is important to select filter media that is appropriate for the type of dust you are collecting. Depending on your dust, you may require filter media that is anti-static, hydrophobic or fire retardant. A PTFE-coated cartridge filter provides superior particulate release and a high level of filtration efficiency.
Pulsing system: High-quality filters should be paired with an advanced pulsing system to pulse more dust off of the filters. Look for engineered pulse nozzles that provide even pulsing down the entire length of the filter for efficient filter cleaning. Effective filter pulsing will extend filter life and cut down on maintenance. Automated pulsing systems that turn on in response to filter loading (as measured by pressure drop across the filters) cut down on energy use and maximize efficiency.
Vertical Filters:

Cartridge-style industrial dust collectors should have filters oriented vertically to allow dust to fall off the filter media and into the collection bin.

Intake Design: If dust is heavy or abrasive, the intake can be designed to allow heavy dust to fall out of the airstream before hitting the filters. Baffles can also be used to protect filters from heavy dust.
Energy Savings
VFD motor: A Variable Frequency Drive (VFD) motor can be a big energy saver for bulk & powder applications. VFD reduces energy use by ramping the blower speed up or down to compensate for filter loading. When filters are new and clean, the blower can run at a reduced speed, saving energy. As filters become loaded and pressure drop increases, the blower speed increases to compensate. Without VFD, the dust collector blower must run at maximum speed at all times. A VFD motor may reduce energy costs by up to 30%.
Maintenance Reduction
Segmentation: For heavy powder applications, the dust collection system should allow segmentation so that one part of the unit can be shut down and maintained while other parts are still operating.
Bin design: Bulk & powder applications can generate large quantities of dust, so make sure your collection bin design is appropriate for your application. Some applications may fill multiple bins or 55-gallon drums per day. To avoid disruptions to your operations, add a rotary valve between the bin and the dust collector hopper to allow for bin changes without shutting down the collector. For very heavy applications, a conveyor system can be used to collect dust in large bins or silos.
Bin sensors:

A sensor system can be added to the collection bin to monitor dust levels and provide an alert when the bin needs to be changed.
Combustion and Fire Safety
Many bulk solids and powders produce highly combustible dust, including grain dust, starches and sugars, plastic fines, and many pigments and chemicals. When collecting combustible dust, the dust collector must be equipped with explosion safety features that comply with OSHA and NFPA safety standards. A deflagration system limits damage if a combustion event occurs inside the dust collector. Dust collector explosion safety elements may include:
Heavier doors and side panels.
 Explosion vent panels, which provide pressure relief by blowing out to safely direct the energy of an explosion when pressure inside the collector rises to an unsafe level. These panels must be carefully placed to direct explosive energy away from people.
A rotary airlock between the collector and the collection bin or hopper. This prevents dust in the hopper from escaping back into the dust collector chamber and providing additional fuel for the explosion.
An isolation valve to prevent a pressure wave from propagating back into the facility and triggering a dangerous secondary explosion.
Designing a Dust Collection System for Bulk Solids and Powders
Dust collection system design for bulk & powder applications includes not only the dust collector itself but also intakes, ductwork and hoods or enclosures for dust-producing processes. An industrial ventilation engineer must design the system holistically in accordance with ACGIH-recommended practices for bulk & powder dust control.
RoboVent Senturion is a tough, efficient dust collector designed with heavy bulk & powder applications in mind. With a modular design and advanced filters, Senturion delivers high performance with a footprint that is about 20% smaller per CFM than the competition. Senturion features:
The smallest footprint per CFM in the industry
Modular design for maximum flexibility and reduced project costs
Heavy-duty 7- and 11-gauge steel construction with powder coating inside and out
An advanced pulsing system for ultimate filter protection
High efficiency and energy savings
Learn more about how we design dust control solutions for bulk & powder applications across industries:
Looking for a dust collection solution for bulk solids or powders? Talk to a RoboVent solutions specialist today.
SUBSCRIBE TO
BLOG UPDATES