Looking to the Future of Manufacturing with Alysha Yinger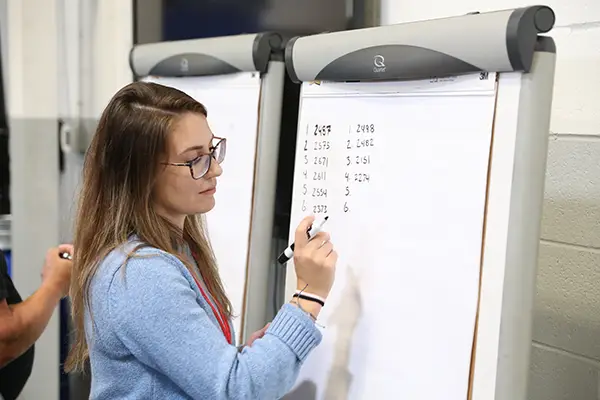 At RoboVent, we are more than a company—we are a community of passionate, dedicated individuals who share a common mission: to improve the world one clean breath at a time. Our people truly are our most valuable resource. That includes some extraordinary women who are breaking barriers in manufacturing. 
Alysha Yinger, our Director of Engineering, joined the RoboVent team in 2018 as a Systems Design Engineer. She now oversees a team of engineers and system designers and guides the company in development of new, innovative air quality solutions. Over the last five years, she has brought both innovation and passion to her role, spearheading important projects including the launch of Senturion, our most powerful and versatile dust collector yet, and the new Delta3 Inline centrifugal spark arrestor. 
Recently, Alysha was interviewed by David Leichner of Cybellum for a series on Women in Manufacturing for Authority Magazine. Read the full interview for Alysha's insights into the state of U.S. manufacturing, her hopes for the future of the industry, and her experiences as a woman in a male-dominated field.
Historically, manufacturing has been an industry that's been heavily male-centric. This fact makes the contributions of women like Alysha all the more important, as they challenge norms, inspire future generations, and bring unique perspectives and approaches to problem-solving and innovation. This diversity of thought is crucial to driving forward not just our business, but the entire industry, as it allows us to come up with more robust, innovative, and comprehensive solutions. In her interview, Alysha said, "I hope to pave the way for more women in manufacturing roles. Even in the last 10 years, I have seen a significant change in the industries I have worked in. There will always be companies behind the times, but I feel many organizations are trying to invest in diversity in their workforce. It is not as easy as just hiring women or other diverse groups, you also must create an environment where they are able to thrive."  
Alysha shared her Five Tips for Success in Manufacturing: 
Find your purpose

: When you are passionate about what you're doing, it's easier to pour your time and enthusiasm into it. 

Keep your drive:

You need to be driven to succeed in a fast-paced manufacturing environment—you have to keep pushing against the status quo to make progress.

Accept change

: Alysha says, "What got us here will not get us there." You have to continue to adapt, evolve and optimize. 

Continue to grow

: No matter where you are in your career, you can continue to learn, grow and expand your skillset. 

Have fun

: While there will always be hard work required, there has to be a balance. Find work that holds your interest and has the right amount of challenge. 
Alysha brings that mindset with her every day to her job at RoboVent. She is continually pushing herself, her team and the company as a whole forward. She's a big believer in the power of optimization: finding small, cost-effective changes that make a big difference in results. That's how she's helping RoboVent make our products better and helping our customers get the most out of their industrial air filtration and ventilation equipment. 
And Alysha is truly passionate about our mission: providing clean air solutions to keep manufacturing workers safe, healthy, and comfortable. She says, "Our goal is to reshape the manufacturing industry into a safer place for people to work. We want to ensure that workers on the manufacturing floor are breathing in clean air and do not have to worry about contaminants in their lungs…In manufacturing the plant floor is critical to our success. We should be treating it, and the employees that work down there, as such."
We're incredibly proud to have women like Alysha on our team.
SUBSCRIBE TO
BLOG UPDATES