Three Factors for Successful Industrial Dust Collector Installation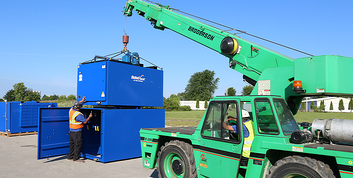 An industrial dust collection system is complex—if it's not installed correctly, you won't get the results you're looking for. That's why competent, expert installation is critical to the success of your system and the life of your dust collector. What's the key to a successful installation? At RoboVent, we believe three factors are critical: communication, safety protocols and a commitment to quality.
1. Communicate, Communicate, Communicate
The first step to a successful dust collector install is communication—and lots of it. When you are working with your installer, manufacturer, or supplier nothing should come as a surprise. At RoboVent, we appoint a dedicated project manager for every install to act as a central point of contact and oversee all the details. One of their most important jobs is ensuring effective two-way communication between our team and the client's. These are some of the communication principles we use to make sure everything goes smoothly.
Gather client information up front, including goals and priorities for the project, current pain points, expected outcomes, and particular challenges we may have to work around. Every customer is unique, and we tailor each solution to meet the customer's unique needs based on their process, their facility and their personal needs.
Provide clear instructions to our clients on what is included in the scope as RoboVent's responsibility, what is excluded and what their responsibilities will be for each stage of work. We do this at the beginning of the project to ensure the customer understands the scope of work and avoid confusion later in the project.
Establish a clear timeline with key milestones and deliverables for each stage of the project. A Gantt chart is a great way to communicate timelines and keep everyone on schedule.
Provide clear communication at every stage of the project so no one is left guessing. Make sure all relevant details are communicated in a clear, organized and timely manner.
Plan regular meetings with all stakeholder groups to address questions as they arise and make sure everyone has the information and deliverables they need to progress to the next step. Weekly or biweekly meetings usually work well for a large industrial dust collector installation project.
If something changes in the project specifications or timeline, communicate those changes to all stakeholders immediately and let them know how they will be impacted. Sometimes changes are unavoidable, but poor communication is inexcusable.
On the day(s) of installation, make sure the install team has clear lines of communication to key decision-makers and managers on the client side and in the back office. That way, if a problem is discovered (e.g., a missing or wrong part, an unpredicted problem at the site, etc.), it can be addressed and corrected right away.
Gather feedback and data from the client after the install to evaluate the success of the installation and determine if the dust collector is performing as expected. Make sure the client knows exactly who to call if there is a problem.
2. Make Safety a Priority
Safety is an essential consideration whenever working onsite at a customer's facility. Industrial dust collector installation involves moving heavy (sometimes very heavy!) equipment, working at heights to install ductwork, high-voltage electrical connections and a number of other workplace safety hazards. In addition, we have to know how to work around the specific hazards found at the worksite, such as moving production lines, slip-and-fall hazards or toxic fumes or materials. To ensure the safety of our employees, contractors and clients' employees, we follow all OSHA safety regulations.
All RoboVent project managers and installers are OSHA 10 certified. This ensures that we are following published guidelines on how to work safely, no matter the environment. This ten-hour training covers all basic elements of workplace safety, including slip/trip/fall, ladder safety, electrical hazards, personal protection equipment (PPE), working with compressed gases and combustible liquids, fire prevention and other essential topics. In addition, workers who will be using forklifts, scissor lifts or other equipment must be certified for the equipment they will be using.
The install team is provided with an overview of safety hazards, necessary precautions and required safety equipment before they arrive on site. On the day of installation, the team leader reviews safety protocols with everyone before they get started. If the install cannot proceed safely—for example, if required safety equipment is not available—it is put on hold until safety concerns can be addressed.
If the customer is providing safety or materials handling equipment, the install team knows to double-check specifications to make sure they meet the requirements of the job. If there is a problem (for example, if a forklift is not rated for the weight of the materials that must be moved), our team will locate and bring in the necessary equipment to complete the install safely.
Our goal is always to complete installations on time and on budget—but not at the expense of safety. We take all required and recommended safety precautions to ensure that everyone stays safe while on site.
3. Focus on Quality
Quality is a value that is embedded in everything we do. It starts with manufacturing high-quality equipment, but it doesn't stop there. Our engineering, installation, maintenance and customer care teams are also committed to quality in industrial air filtration system design, installation and maintenance. That means:
We only use high-quality equipment, parts and consumables for our dust collector installations. RoboVent equipment is manufactured according to exacting standards to ensure optimal performance and longevity. We hold our partners and suppliers to the same high standards, so you know that the ductwork, parts and consumables we use are all top quality.
All of our industrial air filtration and ventilation projects are designed by qualified engineers who follow industry best practices and regulations, including ASHRAE guidelines for system design and OSHA and NFPA requirements for dust collection equipment.
Our Project Managers and installation teams are trained to pay attention to detail to make sure the installation is completed according to the specifications outlined by our engineering team in our installation drawings. We don't cut corners, and we make sure that your system is installed correctly.
We only hire people who hold the same high standards for workmanship that we do. We expect a commitment to quality from all our employees, contractors and suppliers.
With communication, safety standards and an ongoing commitment to quality, we can ensure that dust collector installation is smooth and trouble-free.
Want to learn more about our installation process? Watch the video or talk to a RoboVent team member!
SUBSCRIBE TO
BLOG UPDATES