Central Georgia Technical College: Cleaning Up the Classroom
Cleaning up the Classroom at Central Georgia Technical College (CGTC)
Large technical college located in Georgia, with several branches. At their Warner Robins branch, they are training the next generation of skilled welding professionals. Their training program attracts dozens new welders each year and is helping local companies address predicted skilled labor shortages.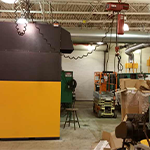 The Problem
The welding program at CGTC hosts several classes per day to teach students all aspects of the welding process. There are 16 weld stations where students can master the art and science of welding. Without an effective air quality system in place, the continuous welding created an unsafe (not to mention extremely unpleasant and distracting) environment for the learning process.
Jason Haramut, a welding instructor at CGTC, had been using an old extraction system for years. The exhaust system they had in place was extremely ineffective and underpowered for a system of its design. Due to the underpowered system, little to no weld smoke was actually removed from the classroom. This caused many students to leave the program with the ultimatum of not coming back unless the fume problem was fixed. The unpleasant environment also made recruiting new students very difficult.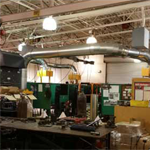 The RoboVent Solution
Jason knew that he needed a solution—fast. CGTC's preferred industrial equipment supplier recommended that Jason give RoboVent a call. After an initial call and consultation, RoboVent's experienced Solution Directors knew that a cookie cutter solution would not cut it. Jason's classroom had 16 existing weld booths that they wanted to keep.
RoboVent suggested a modular fume arm system that would not only capture the vast majority of weld fumes right at the source, but would also return the clean air back to the classroom. This process, in contrast to the previous exhaust system, would also save energy costs for CGTC.
The RoboVent team installed the system in just two days, even shipping necessary parts overnight to get the job done ahead of schedule. The commitment didn't stop there. After the installation, Jason contacted his RoboVent Solutions Director because the touch screen on the control unit was not working correctly. As promised in the RoboVent Guarantee, he quickly received a replacement unit to get them back up and running.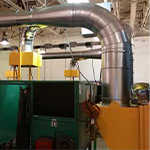 The Results
With the RoboVent equipment in place, Jason noticed an immediate improvement in the air quality in his classroom. The entire staff and faculty at CGTC were extremely pleased with every part of the process, from the initial consultation all the way through continued customer service. With a clean environment, Jason has noted a marked improvement in both student retention and enrollment. He says, "Due to the effectiveness of the system and ease of use, I would highly recommend RoboVent to anyone in my field!"