DUST CONTROL SOLUTIONS FOR BAKERIES
Dust collection for bakery operations is not "one size fits all." Our engineers will evaluate your processes and help you select the right dust collector and filter media. We can also design an industrial air filtration and ventilation solution for you to ensure optimal dust collection, reduce cross-contamination and combustion concerns, and create a safer, more comfortable workplace for employees. 
RoboVent offers robust and innovative dust control solutions that meet the unique needs of commercial bakeries. We can help you:  
Meet OSHA and NFPA regulatory requirements and safety guidelines for management of combustible baking dusts. 

Set up a

dust hazard analysis

(DHA) for your bakery under the NFPA Combustible Dust Standard.

Design, install and maintain a customized dust control system to mitigate the risks of combustion, cross-contamination, microbial growth and employee safety hazards.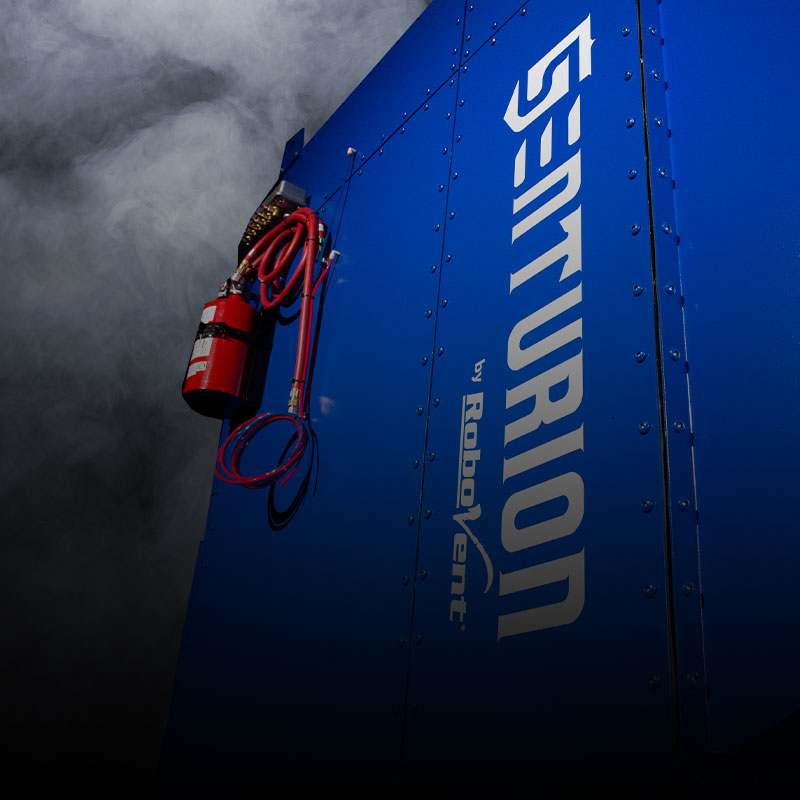 Our experienced air quality engineers will work with you through the whole process, including needs analysis, system design and engineering, collector and ductwork installation, filter selection, HVAC system integration, startup and commissioning, and aftercare and service.
DUST-CREATING PROCESSES IN COMMERCIAL BAKERIES
Commercial bakeries can produce a lot of dust at different stages of the process. The majority of dust is created when handling dry ingredients such as flour, sugar, cornstarch or spices. Later stages of the baking process, after wet ingredients have been added (e.g., dough mixing, fermentation, proofing, panning), will naturally be less dusty. Dust-creating processes for bakeries may include: 
Bulk material handling, transport and conveyance

Measuring/pouring/dumping

Dry mixing/batch mixing/sifting 

Topping/dusting 

Packaging (box filling, bag filling, carton filling)
DUST COLLECTION CHALLENGES FOR COMMERCIAL BAKERS
While home bakers may not consider baking to be a particularly hazardous activity, baking dust creates much bigger problems when ramped up to a commercial scale. Bakeries must have dust control systems in place to ensure both food and worker safety. 
Combustion risk

: Combustion is perhaps the most serious risk for commercial bakeries. Many of the products used in baking—including flours, sugars and starches—are highly combustible. That means they can generate an explosion when allowed to concentrate in the air, in enclosures and conveyance systems, or inside a dust collection machine. In fact, commercial bakeries have special regulations they must follow to reduce the risk of an explosive event. A dust control system must be used to prevent baking dust from accumulating in the air and especially within enclosed spaces such as conveyors.
DUST CONTROL REGULATIONS FOR BAKERIES
The food processing industry is highly regulated. The Food and Drug Administration (FDA) is primarily concerned with food safety issues, including issues related to cross-contamination and microbial contamination, while the Occupational Safety and Health Administration (OSHA) develops regulations related to worker safety. Bakers also must follow OSHA and National Fire Prevention Association (NFPA) standards for combustible dusts, some of which are specific to bakeries.
CONSIDERATIONS IN SELECTING A DUST CONTROL SOLUTION FOR COMMERCIAL BAKERIES
Engineering controls for baking dust will generally include a mix of containment, ventilation and dust collection/filtration solutions. While the exact solution will vary depending on the dust type, specific processes, and layout of the facility and production lines, there are some general principles that apply to the baking industry.
TOTAL FILTRATION PARTNER
RoboVent is your full turnkey resource for clean air in industrial environments. From facility testing and engineering, to installing equipment, providing replacement filters and preventive maintenance, RoboVent is ready to manage the whole process.
CONTACT US
Contact one of our industrial dust experts to gain the advantage against dust-generating processes and applications.