DUST AND FUME COLLECTION CHALLENGES IN THE MEDICAL EQUIPMENT INDUSTRY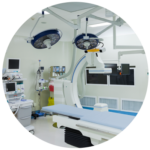 Medical-equipment manufacturers are constantly chasing efficiency in an effort to reduce costs. The problem with pioneering new technology, in the case of medical-equipment development, is that much of the budget is spent on regulatory compliance and product safety rather than on plant investments.
But being able to speed up and stabilize new-product introduction without worrying about employee downtime, or other inefficiencies brought on by poor air quality, requires an agile dust-collection system. A fume extractor that is easy to operate, easy to maintain and that doesn't take up a lot of room can increase efficiencies, safeguard manufacturer compliance and prevent contamination throughout production.
REGULATIONS FOR MEDICAL EQUIPMENT DUST
Medical equipment manufacturers are no strangers to regulatory compliance; it comes with being in one of the most heavily-regulated industries. Many of these regulations are subject to change or renew from year to year with a new administration and continual developments in technology. Whether the manufacturer is producing electro-medical equipment, surgical and medical instrumentation or surgical appliances and supplies, clean air is a must. No matter which NAICS code the plant falls under, proper dust and fume collection ensures sterility and high-quality production that's free from airborne contaminants.
Improving the air quality of a manufacturing facility can not only help keep the facility within regulatory guidelines, but it also improves employee retention. Workers breathing clean air are able to work longer and feel better throughout the day. This immediately influences the bottom line of any manufacturer and, in the medical device industry, can potentially mean the difference between competitive efficiency and obsolescence.
SOLUTIONS FOR DUST AND FUMES IN THE MEDICAL EQUIPMENT  INDUSTRY
The engineers at RoboVent have spent decades designing dust and fume collectors to meet the regulatory needs of nearly every industry. Our products are equipped with simple-to-use controls and proprietary technology like our exclusive ePad Control Panel so our systems can integrate seamlessly with your processes.
We've taken dust control to a new level so that medical-equipment manufacturers can breathe easy. Ensure air-quality compliance as well as effective dust and fume collection with a cutting-edge RoboVent system, such as the Fusion Series collector. Or speak with our engineers about using our VentMapping to customize your solution specifically for your facility.
CONTACT US
Contact one of our industrial dust experts to gain the advantage against dust-generating processes and applications.