AGI Nobleford: Dust Control for Large Weldments in Agriculture
AGI Nobleford manufactures equipment for grain handling, storage and conditioning under the brand names of Grain Guard and Keho. They came to RoboVent to find a better way to control weld fumes in their manufacturing facility.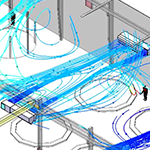 The Problem
Like many companies in the agricultural sector, AGI Nobleford produces large pieces of equipment that cannot be contained under hoods. The Nobleford, Alberta facility manufacturers grain bins along with foundations and hoppers for the bins. Their processes involve extensive manual welding as well as other types of metal fabricating.
The size of the weldments makes containing weld fumes challenging and requires the welders to remain highly mobile. In addition, many of their components are made using pickled-and-oiled steel. Oil left on the surface from this process made welding especially smoky. AGI Nobleford needed a solution that would protect workers from toxic weld fumes and help them meet Alberta's stringent standards for indoor air quality.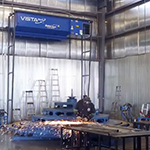 The Robovent Solution
AGI Nobleford wanted an ambient air quality system that would keep air throughout the facility clean and comfortable.  It needed to be powerful enough to keep up with high volumes of weld smoke. Because floor space is at a premium, they did not want to install dust collectors that sat on the factory floor. They also were concerned about energy costs associated with traditional ventilation and makeup air systems.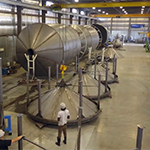 The RoboVent Vista360™ provided the perfect ambient filtration solution. Eight Vista360 units, suspended 15 feet above the floor, create an airflow pattern that continually pulls dirty air into the dust collectors and pushes clean, filtered air back to the facility.
To find the optimal number and placement for the Vista360 units, RoboVent engineers used VentMapping™, an engineering process that leverages computer modeling to map airflow in the facility and optimize an air quality solution.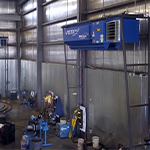 The Results
With the new ambient filtration system in place, the AGI Nobleford facility is much cleaner and more comfortable for employees. Using VentMapping allowed engineers to identify the right placement of dust collectors to meet their air quality goals without over-engineering the solution.
By switching to ambient filtration instead of their previous exhaust-and-makeup-air system, they are also saving energy. Heating costs for their sister facility, which still uses an exhaust system, can be significant during the cold Alberta winters. AGI Nobleford's new systems keep heated factory air inside while minimizing employees' exposure to toxic fumes.