Sellick Equipment: Clearing the Air for High-Production Stick Welding
Sellick Equipment manufactures rough terrain forklifts in Ontario. They came to RoboVent to find an air quality solution that would improve the health and safety of their workers.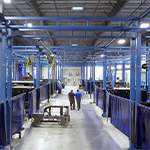 The Problem
High-production stick welding of heavy equipment at the Sellick plant left a lot to be desired when it came to air quality—on many days, a heavy blue haze lay over the manufacturing area. Welders often opened up windows and doors for added ventilation in an attempt to keep the air clearer.
The facility was originally a canning factory built in the early 1900s. It had very low ceilings that did not leave much room for a traditional ducted push-pull air filtration system.
Sellick managers were concerned that workers were breathing in too much weld smoke. They wanted to find an air quality solution that would protect workers from hazardous materials in the air.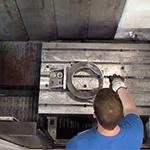 The Robovent Solution
The RoboVent team used the VentMapping™ engineering process to map out the existing airflow in the facility and design an effective air quality solution. Using computer modeling, they were able to determine the number and placement of dust collectors needed for optimal airflow.
The solution turned out to be five Vortex™ ambient filtration units. These floor-mounted units create a circular airflow pattern throughout the facility that continually pulls dirty air in and pushes clean, filtered air out to the facility.
Sellick also purchased two ProCube™ dust collectors and four RoboVent Extractor™ fume guns for source capture. The fumes guns capture the majority of manual weld fumes right at the source, reducing the volume of fumes in the ambient air. They also have a Plaser dust collector for source capture of laser cutting dust. The combination of source capture and ambient filtration provides highly effective air quality control for the whole facility.
FEATURED SOLUTION: PROCUBE
When you need power, flexibility and mobility, look to the RoboVent ProCube™. The ProCube puts high-vacuum filtration power into a small, portable package that goes wherever you need it. Designed especially for the RoboVent Extractor™ Fume Gun, ProCube is the only portable filtration unit of its size that is rated for high-production welding environments.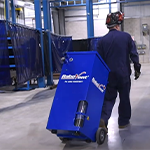 The Result
The RoboVent installation team had the entire system in place in two days with no interruption to Sellick's manufacturing operations. The new system is operating exactly as predicted by the VentMapping model.
Since installing the Vortex and ProCube systems, the air is much cleaner. The airflow provided by the Vortex system also keeps the temperature more comfortable in the facility. Workers no longer need to open windows and doors to maintain adequate ventilation, so they are saving energy, too.
Ken Thoman, Projects Manager for Sellick Equipment, says, "What it's done is lived up more to the promise than what they said it would do. It by far exceeded everyone's expectations."