Stoughton Trailers: Creating a Healthier Production Environment
Stoughton Trailers recently contracted with air filtration technology company RoboVent, based in Sterling Heights, MI to install a new clean air system in its main manufacturing facility in Stoughton.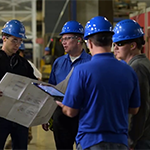 The system, which was installed to create the healthiest work environment possible for Stoughton Trailers employees, already has resulted in a brighter, cleaner facility that boasts even better ventilation and less dust.
RoboVent systems drastically reduce fumes, dust and smoke that welding produces within the manufacturing environment, providing workers with the cleanest air possible.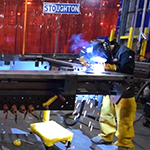 Stoughton Trailers began working with RoboVent in 2014, when it asked the company to produce the perfect clean air solution for the welding department of its primary fabrication facility in Stoughton. RoboVent engineers used VentMapping™, an air-mapping process using computational fluid dynamics to identify specific airflow patterns and filtration requirements for each of the areas targeted. Through the use of fume guns, Vortex towers and air control curtains, specific spaces in the production environment were able to be quarantined, preventing dust and fumes from escaping to other parts of the facility.
FEATURED SOLUTION: VENTMAPPING® ENGINEERING
In designing ventilation systems, a key challenge is customizing each system to its unique application and environment. Many factors must be taken into consideration: dust and fume sources, plant layout, existing airflow patterns, future process changes and more. Your motivation and goals matter greatly, as well—these might include any combination of health concerns, plant safety, regulatory compliance and more.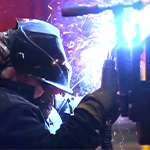 "We're thrilled about the many positive effects the new RoboVent system is having on our workers, facility and production," said Stoughton Trailers President Bob Wahlin. "Production is more efficient, and the air in the facility is even safer and cleaner. Smoke and dust are virtually eliminated, and employees on the floor feel better about coming to work."