RoboVent announces acquisition by Air Filtration Holdings, LLC
Leadership enthusiastic about new resources and growth opportunities
February 1, 2018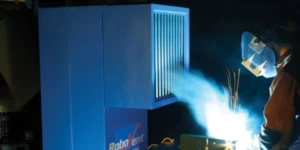 COLUMBUS, OH – RoboVent is poised and ready to revolutionize the air filtration business as part of Air Filtration Holdings, LLC (AFH). The acquisition became official on Feb. 1, 2018.
Managing Director Jim Reid explained that RoboVent had been approached for acquisition several times over the years. However, the possibility of selling the company only became a genuine possibility when ownership met AFH CEO Brandon Ost and his team.
"When they described their vision for Air Filtration Holdings, we knew this was something we wanted to be part of," Reid said. "The merging of RoboVent's innovative technologies with AFH's depth of filtration and business experience will create a world leader in filtration and provide RoboVent additional resources to support its continued growth."
Reid continued, "The RoboVent flag still flies, and with the financial backing and a deeper breadth of knowledge now available to us through AFH, we are gearing up to become a more formidable force in the air filtration industry."
"We intend to acquire and invest in the most innovative, forward-thinking businesses in the air filtration industry," said Ost. "RoboVent's focus on sustainability and dedication to customer-centric solutions is perfectly aligned with our mission to deliver best-in-class solutions that keep environments safe and industries thriving."
Ost also explained the RoboVent will serve as a flagship company in this industry family of businesses that will help attract other air filtration companies that have the vision and the technology to transform the industry as we know it. In the last few months, AFH has acquired Maryland-based Viskon-Aire, a leading manufacturer of air filtration products, and Illinois-based Permatron, a provider of custom, technology-driven air filtration solutions with over 60 years of experience.
Founded in 1989, RoboVent has established itself as leader in the field of air filtration solutions with highly efficient, reliable and cost-effective systems installed at major manufacturing operations across North America. RoboVent designs and manufactures air filtration solutions for welding, metal cutting; dust collection and lubricant mist collection; and general ventilation.
Headquartered in Sterling Heights, Michigan, RoboVent has sales and service centers located throughout North America. In 2014, the same year that RoboVent celebrated its 25th anniversary, it was named one of Inc. 5000 America's Fastest-Growing Private Companies.
About Air Filtration Holdings, LLC
Air Filtration Holdings, LLC (AFH) is a family of companies dedicated to air filtration. By investing in innovation and the people that drive it, AFH manufactures and markets best-in-class solutions that keep environments safe and industries thriving. AFH was founded in 2017 by industry veteran Brandon Ost, The Edgewater Funds and Duchossois Capital Management.
About Edgewater Funds
The Edgewater Funds is a Chicago-based private equity firm with $2.6 billion in committed capital. It provides capital and resources to lower middle market companies to help accelerate their growth and market leadership. Edgewater leverages its wealth of experience to create value—both from its partners, all former business leaders and executives, and its nationallyvprominent Executive Advisory Board.   For more information, visit http://www.edgewaterfunds.com.
About Duchossois Capital Management
Duchossois Capital Management is a privately-held, family-owned investment firm that creates long-term value by leveraging its extensive industry knowledge, operational expertise, executive network and permanent capital base. DCM also partners with management teams and other investors to bring flexible capital and operating resources to a wide array of asset classes including private and public companies, private investment funds and real estate. For more information, visit http://www.dcmllc.com.
DROP US A LINE
Can't find the info you're looking for? No problem at all, you can reach us here.