Sweepster: Increased Productivity and Improved Employee Relations
Strongly consider the effect on the productivity and attitude of your employees when considering the purchase and installation of air filtration systems in a welding plant says Mike Rosebrough, plant manager of Sweepster, a Dexter, MI based manufacturer of high performance sweepers.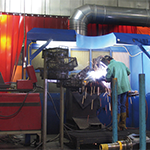 Sweepster engineers and manufactures high speed, high performance sweepers for airport runways and stadiums, replacement brushes and landscaping attachments. Sweepster units are in service removing snow and debris in more than 700 airports worldwide.
They have been in their current plant since 1988 where they design, fabricate, weld, assemble and manufacture sweepers and brushes. They have 154 employees and approximately $30 million annual sales supplying airports worldwide, military contracts, NASCAR, golf courses and stadiums and international companies such as John Deere and Caterpillar.
Air quality in the Sweepster plant was always above regulated standards, according to Rosebrough. But the air in the plant had a slight cloud-like appearance and he said just meeting standards wasn't enough. "We care for our employees wellbeing and also the environment," he said. "We didn't want to dump the air into the environment and we felt that it would be better for the employee if we removed the potential hazards."
So Rosebrough made the decision to invest in air filtration for the plant.
Environmental safety and cost savings during the heating months was also a key reason for filtering the air in the plant, according to Rosebrough. "We chose to filter the air for two additional reasons. The environment was one and then we can re-circulate the air in the wintertime, because it's cold up here!"
Sweepster started by looking at the options available for air filtration. Rosebrough said they got the standard three quotes from air filtration providers and it quickly became clear that RoboVent Product Group of Clawson, MI had the best air filtration solution.
You just learn right away who you want to work with," he said, noting that he now has a 10-year working relationship with RoboVent. "You look at attention, price and knowledge. They worked with us. They came in here and watched our guys weld." RoboVent also looked at existing systems and recommended customized ways to refit the units to make them more effective. "I like their service and willingness to adjust and work with us. I don't have to be the designer. They just do it," he said.
Sweepster has 16 welding stations and one robotic welding station in their Dexter plant. Their production runs are generally small. Rosebrough said that 30-50 units is a large production run, which means that they don't have a great need for robotic welding units. However, he said they were experiencing a shortage of welders and made a decision to get a robotic welding unit to help maintain production.
Sweepster bought a RoboVent Self-Contained Air Filtration unit manufactured by RoboVent Product Group when they bought their robotic welding cell. When Rosebrough went to buy the robot, the robot manufacturer was already working with RoboVent. That reinforced his decision to employ the air filtration unit from RoboVent for the welding cell.
Sweepster also uses a maintenance program from RoboVent to maintain all of their ventilation and air filtration equipment. "We're interested in production and productivity and we don't like downtime. But we needed help with maintenance," Rosebrough said. "RoboVent modified their maintenance program to meet my schedule." "They come in based on usage, added Ron Green, manufactacturing engineer at Sweepster. "They worked with us on establishing a set schedule. We don't have to remind them, they're here."
The result of Sweepster's investment in air filtration has been an increase in production and an improvement in employees' feelings toward management and the company, Green said. "Employees viewed visible debris in the air as pollution, even though the air met federal standards," Green said. "Eliminating that improved employee morale and showed management's concern."
"We've reinvested in our employees by purchasing air filtration equipment," Green said. "Employees always want to know that someone cares. It raises the morale, people feel a part of the team and it increases productivity. We don't have much turnover because employees aren't walking into a smoke filled room."