American Axle & Manufacturing: Raising the Bar for Air Quality
For Pankaj Patteli, Plant Facility and Construction Engineer at American Axle & Manufacturing, headquartered in Detroit, Michigan, just meeting OSHA standards in regard to air quality is not acceptable. "We decided to invest in air filtration systems in order to provide better indoor air quality for operators inside the plant that exceed the OHSA requirements," says Patteli "We also wanted to severely reduce the risk of fires."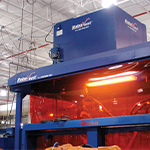 American Axle & Manufacturing is committed to excellence in every phase of their business. This has been reflected not only in the quality of their products, but also in the fact that all of its manufacturing plants throughout the world have earned and maintained ISO/QS clarifications.
American Axle & Manufacturing is a world leader in the manufacture, engineering, validation and design of driveline systems, chassis systems and forged products for trucks, buses, sport utility vehicles and passenger cars. In addition to its plants in Michigan, Ohio and New York, American Axle & Manufacturing has offices or facilities in Brazil, China, England, Germany, India, Japan, Mexico, Scotland and South Korea.
With over 80 years experience, 12,000 associates worldwide, seven-million square feet of manufacturing space in 17 manufacturing facilities located in the United States, Brazil and the United Kingdom, American Axle & Manufacturing boasts annual sales exceeding $4 billion.
To stay true to its mission to recognize, meet and exceed customer needs with precision quality by making major investments in modernization of its plants and in the education, training and skill-set development of its associates, American Axle & Manufacturing made it a priority to upgrade their welding fume collection systems with the RoboVent Enclosed Robotic Welding Ventilation Hood with spark arrestors manufactured by RoboVent Product Group, headquartered in Clawson, Michigan.
American Axle & Manufacturing selected the RoboVent system because of its commitment to stop fires. "RoboVent's low cost, better system design and reliability made them a prime candidate for our air filtration system," says Patteli.
The RoboVent Enclosed Robotic Welding Ventilation Hood effectively captures smoke by a special curtain and hood that hangs over the front of the weld cell to remove the smoke from the welding process. The unique design has been developed and improved over the years to reduce the risk of fires in the duct and filtration equipment. The current design has effectively eliminated fires in hundreds of robotic and automatic weld cells since 1996.
American Axle & Manufacturing currently has 11 RoboVent systems in place and Patteli says since installation of the RoboVent, productivity has increased because there have been no fires in the plants since they were installed in July 2004. Patteli adds that all 11 RoboVent systems were easily installed in two weeks.
American Axle & Manufacturing opted to perform their own maintenance although RoboVent Product Group does offer a Preventative Maintenance Program that utilizes regularly scheduled expert maintenance.
Eliminating fires in welding fume extraction systems has been a focal point for RoboVent since 1994, when the company first installed a robotic welding system. For a period of over two years, the RoboVent spark arrestor system was tested and refined through a series of in-the-field engineering sessions. Since that time, the company has installed over 1200 RoboVent systems in high-production applications and has had a 99.8 percent success rate for no fires.
The RoboVent system can be installed on most weld cells using existing enclosure or guarding. The customized hood and curtain makes installation easy and cost-efficient and the clear vinyl tops increase light and visibility inside the cell. The enclosed system captures exhaust and contaminated air at the source and removes airborne containments before they can settle on floors, walls or in employees' lungs. It filters impurities and returns clean air to the workplace.
RoboVent dedicates one filtration unit to each weld cell, which in turn distributes the job of cleaning the air and allows for extra ventilation. This eliminates the possibility of total system failure and greatly reduces production delays and downtime during maintenance.
"RoboVent has a good design of Intake Spark Arrestors," says Patteli. "RoboVent is a low-cost fume collector system, turn key supplier with a higher quality standard." Patteli adds that an additional benefit of the RoboVent is the quick disassemble of duct joints due to the snap-ring construction.
"RoboVent has a good trained professional staff with great products for welding fume collection systems," says Patteli. "I would definitely recommend the RoboVent system to any company looking to upgrade their air filtration system."