DUST AND FUME COLLECTION CHALLENGES IN THE STRUCTURAL STEEL FABRICATION INDUSTRY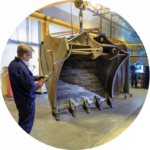 Fabricators use structural steel to create a broad range of products for the construction industry as well as for oil & gas infrastructure, shipbuilding, power plants and energy infrastructure. Some of the most common uses of structural steel include:
Bridges
High-rise buildings
Parking garages
Stadiums
Commercial buildings (warehouses, retail stores, prisons, office buildings, and manufacturing facilities)
Pre-fab housing, office buildings and building materials
Dams
Power stations and energy infrastructure
Oil rigs, pipelines and offshore platforms for the oil & gas industry
Playground equipment
Shipbuilding and transportation equipment
Security fencing
Agricultural structures and equipment
Structural steel is also used in a broad range of other building materials and heavy construction equipment.
Of course, construction work for large structures like high rises and bridges happens outdoors and onsite. However, smaller structures such as playground equipment or stadium seating are usually assembled and welded in an indoor facility. Structural steel fabricators also pre-assemble smaller components of larger structures that will be shipped to the construction site for final assembly. This may include drilling, cutting, grinding and welding of structural steel beams—all of which will produce dangerous dust or fumes.
DUST AND FUME COLLECTION CHALLENGES IN THE STRUCTURAL STEEL FABRICATION INDUSTRY
Fabricators working with structural steel face a number of challenges when it comes to indoor air quality.
Structural steel fabrication often depends on a lot of manual welding. Welding structural steel produces toxic weld fumes that put employee health at risk. In particular, alloys used for structural steel, as well as welding consumables, are usually high in manganese, putting workers at risk for manganism or other nervous system disorders. Depending on the exact composition of the structural steel alloy, workers may also be exposed to hexavalent chromium, nickel, beryllium or other toxic substances. Exposure to these elements is linked to metal fume fever, lung cancer, kidney disease and other health problems.
Cutting and grinding structural steel produces high volumes of dust—especially laser and plasma cutting, commonly used to cut large steel I-beams and girders down to size. These particulates are irritating the lungs, toxic when inhaled or ingested, and potentially damaging to other equipment and processes. They can also be very challenging to contain and control.
Metal dusts created by laser cutting, drilling or grinding of structural steel are combustible. If they are allowed to accumulate in an enclosed area, they create a serious risk of explosion.
Structural steel components that will be exposed to the elements are often treated with corrosion-resistant paints or other treatments to improve their longevity. However, the materials and coatings used to increase corrosion resistance often contain highly toxic elements such as cadmium, which makes working with the dust or fumes even more dangerous.
Structural steel beams and the products made from them are usually very large and heavy. Most structural steel fabricating cannot be contained under a hood. Fabricators may also need to use overhead cranes to move beams and final products around. These factors make source capture, which is usually the most economical and effective method of air quality control, challenging.
SOLUTIONS FOR DUST AND FUMES IN THE STRUCTURAL STEEL AND BUILDING MATERIALS INDUSTRY
RoboVent knows how to control weld fumes and dust for fabricators working with structural steel. From pre-fab housing to playground equipment, we can help you analyze your processes, identify your challenges, and design an air quality solution that is tailored to your needs.
We have been an industry leader in clean air since 1989, and we are continually innovating to make our equipment safer, more effective, and more energy efficient. And RoboVent guarantees satisfaction. Our manufacturing standards are the highest in the industry, and our warranty is the best in the business.
CONTACT US
Contact one of our industrial dust experts to gain the advantage against dust-generating processes and applications.