VORTEX™ SERIES
FACILITY-WIDE AMBIENT AIR FILTRATION
The RoboVent Vortex™ Series collector is based on a proprietary design that creates a circulating airflow to effectively capture and filter particulates in a plant. Cleaner air is then reintroduced to the plant in a seamless process. The system utilizes a unique mechanism consisting of eight to 12 nozzles that can be adjusted directionally to maximize the efficiency at which the air is cleaned.
WHY THE VORTEX SERIES IS AN EXCELLENT CHOICE
There are many benefits to installing a Vortex System in your facility:
It does not interfere with overhead cranes or other obstructions that cause trouble for other ventilation systems.
No ductwork is required, which lowers installation cost and improves sight lines and visual appeal.
It reduces collector noise levels by decreasing static pressure.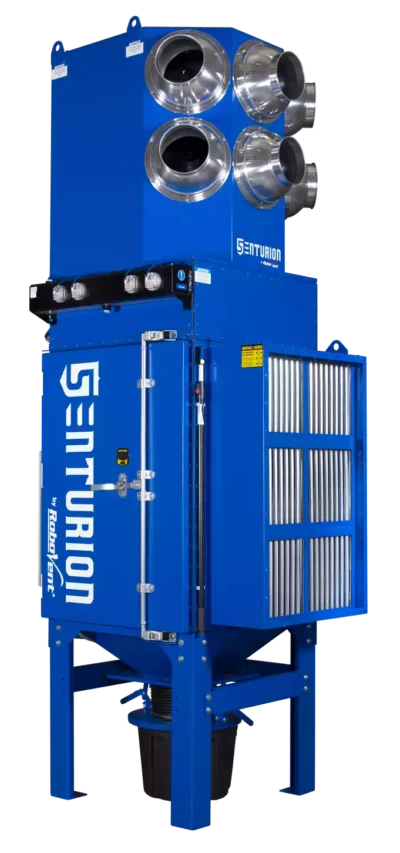 AMBIENT AIR TESTING RESULTS
Normal Operation With Ventilation System 20 Minutes After System Was Turned On.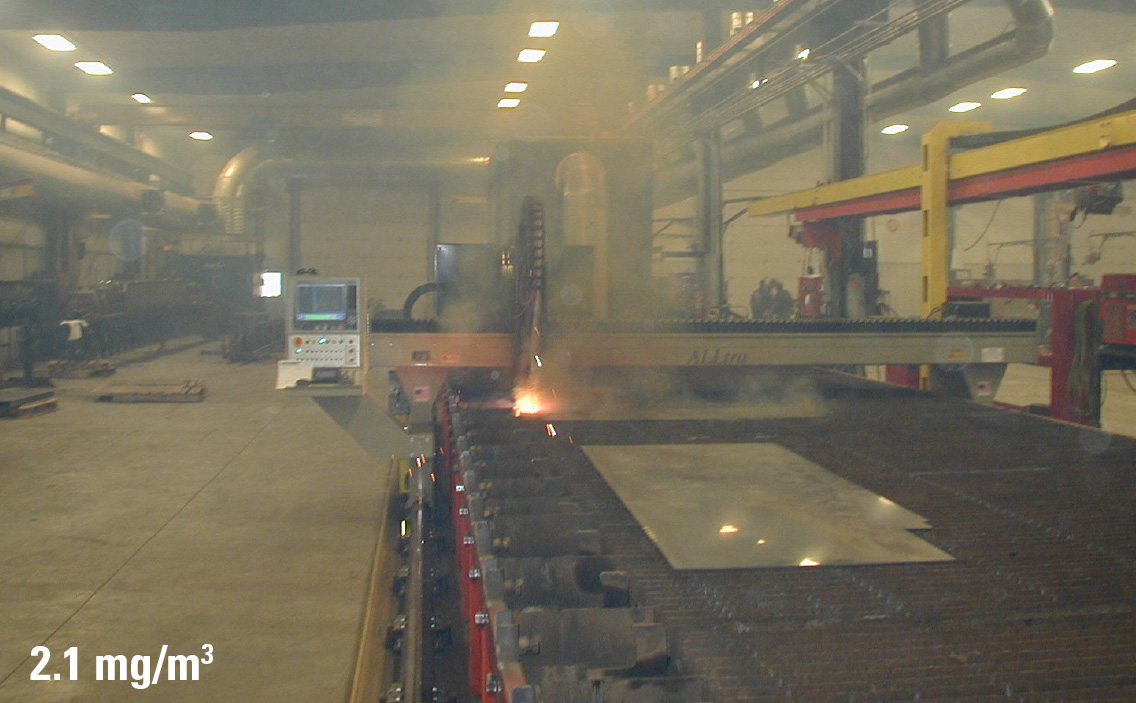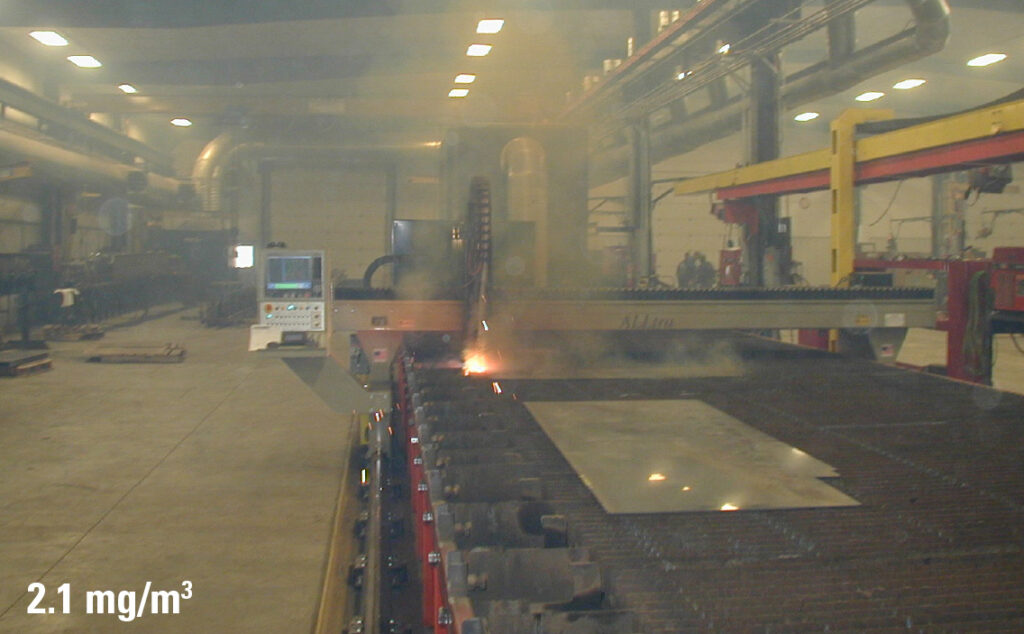 These RoboVent systems were turned off for 20 minutes during normal operation. The air measured 2.1 mg/m3.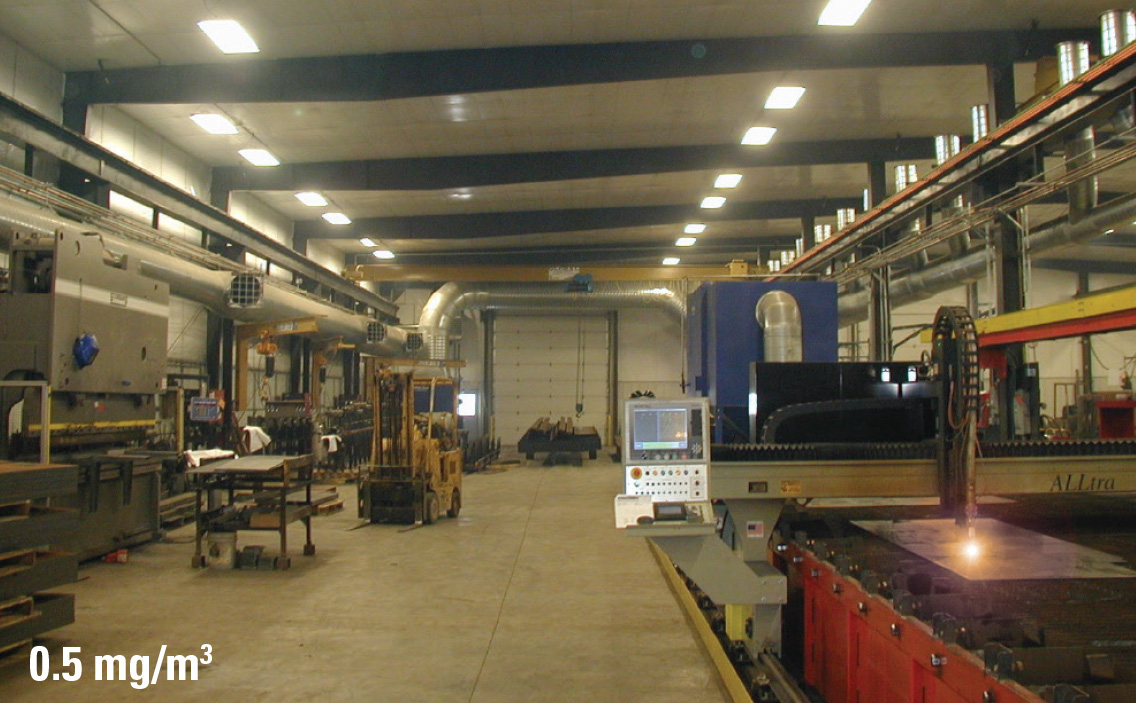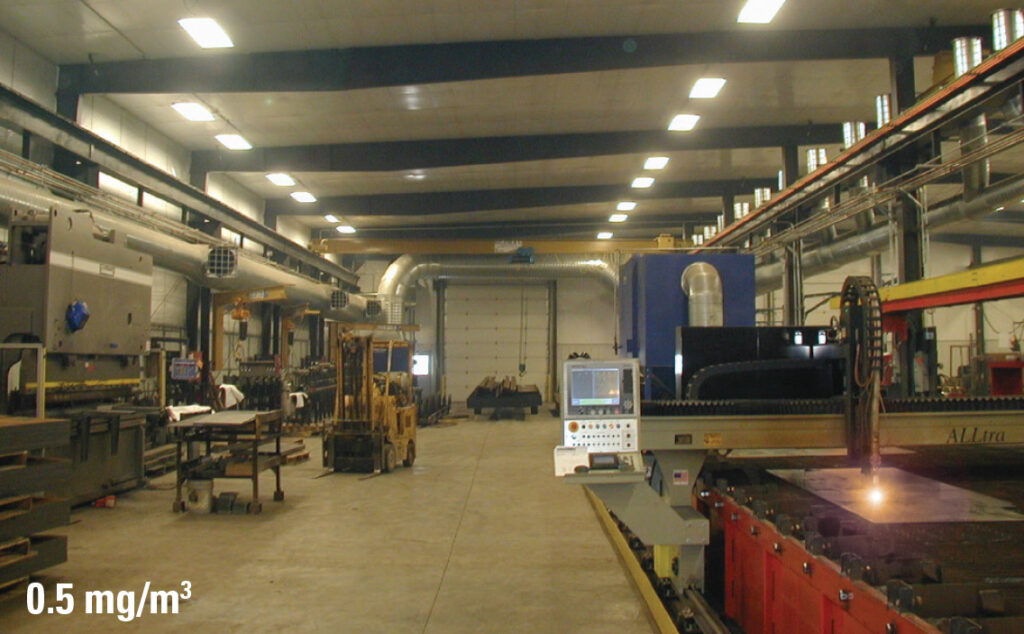 Normal operation with a RoboVent system after 20 minutes. The air measured .05 mg/m3 while production was running.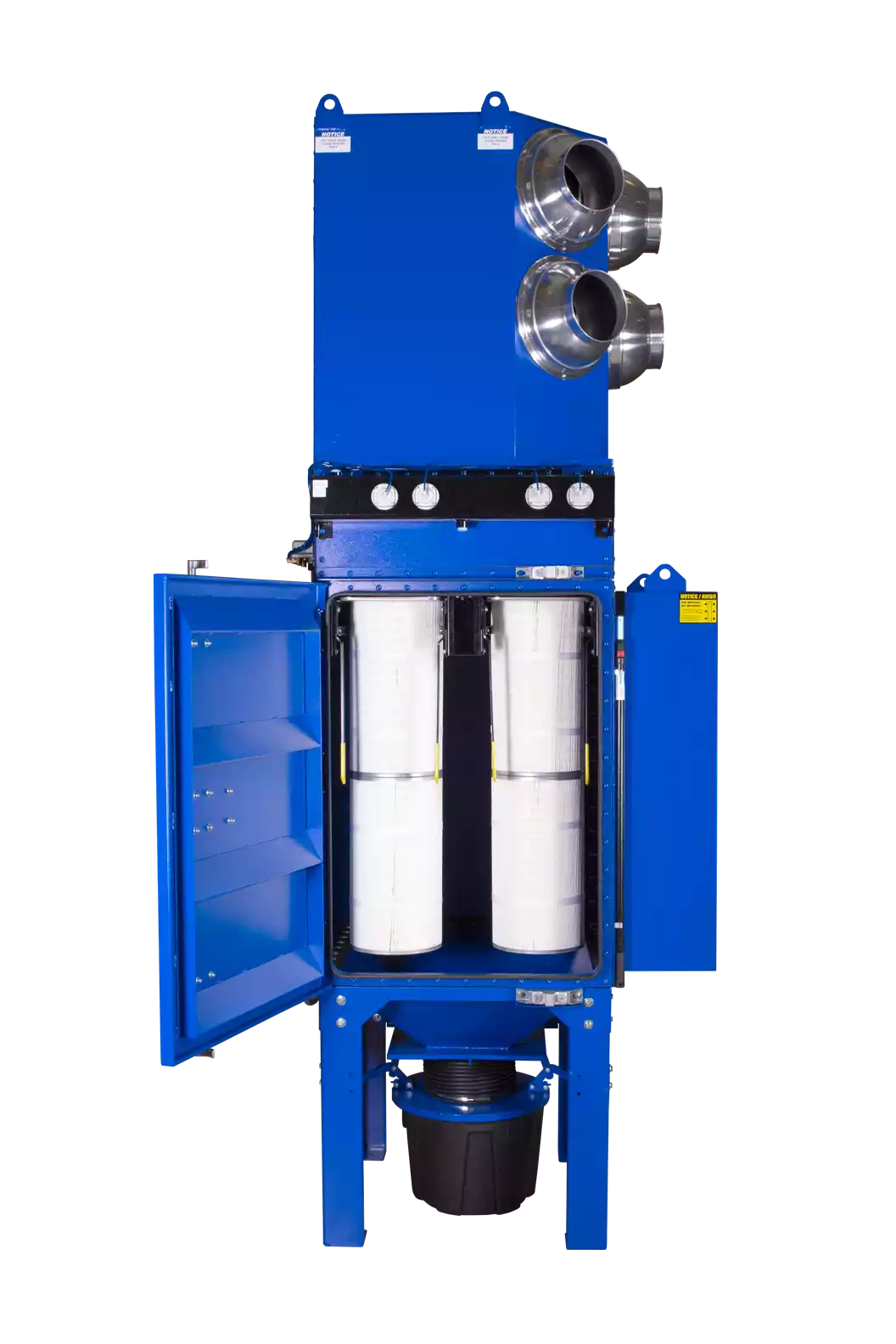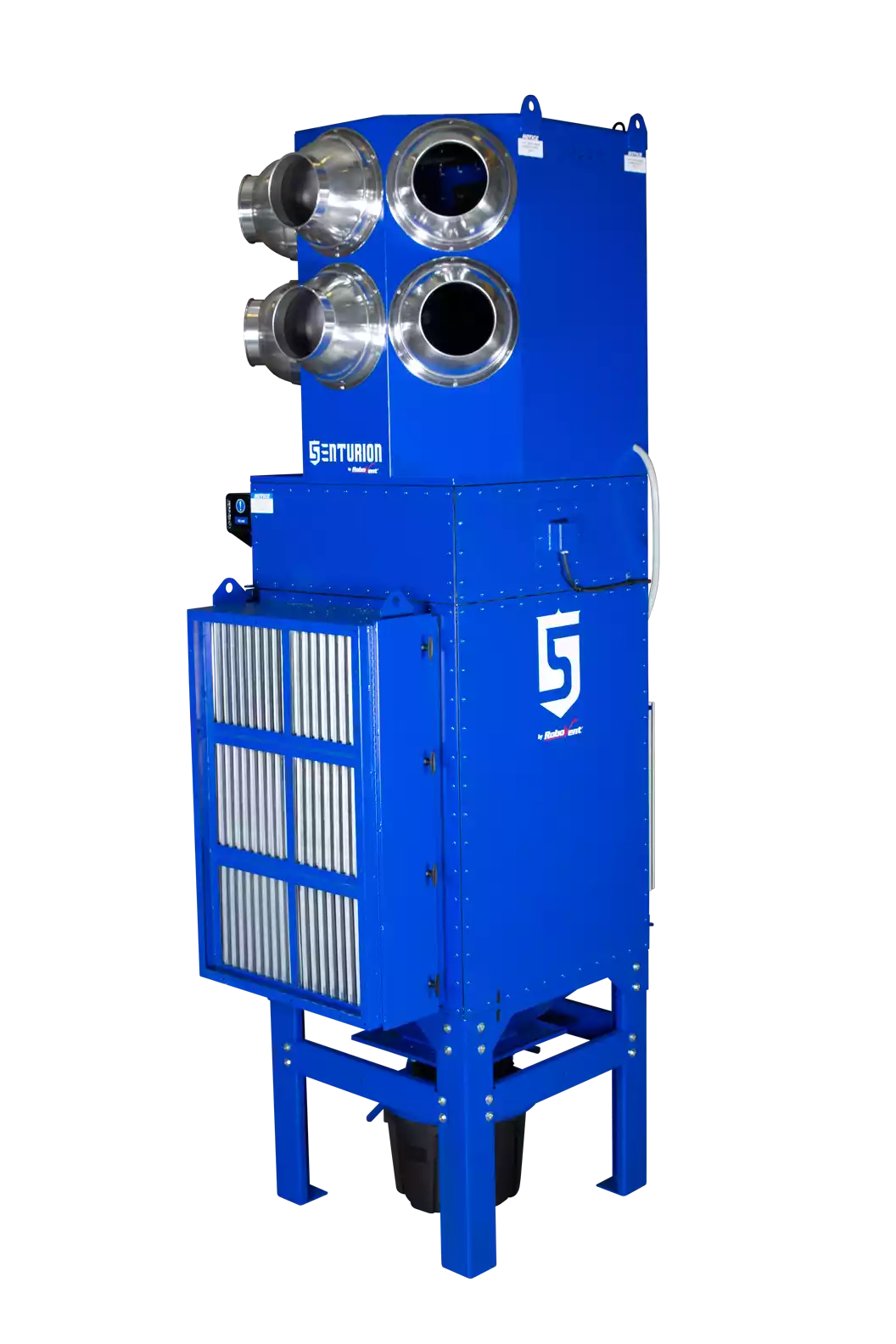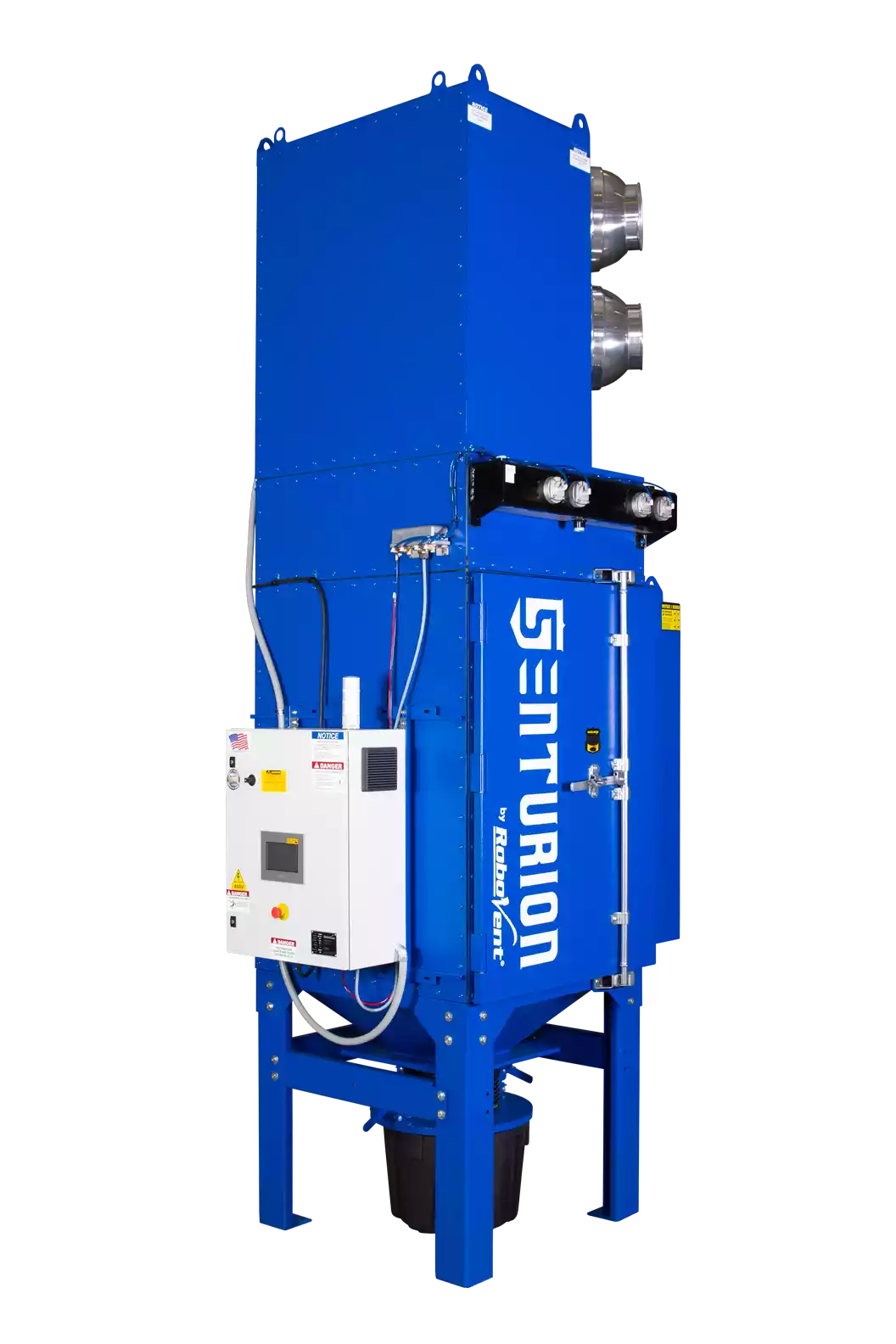 HOW IT WORKS
HEAVY DUTY CONSTRUCTION: Fully welded 11-guage steel construction and a durable baked-on powdercoat finish, backed by our quality-built guarantee.
VORTEX INTAKE PLENUM: Pulls dirty air in for high-efficiency cleaning—no ductwork required! Vertical filter alignment in the filter cabinet aids in shedding dust.
QUIET OPERATION: Built-in high-performance acoustical silencing for quieter operation.
VORTEX RETURN AIR NOZZLES: Adjustable nozzles return clean, filtered air into the breathing zone. Nozzles can be adjusted directionally to maximize air cleaning efficiency.
DYNAMIC PULSING SYSTEM: Double-pulse filter cleaning system to pulse more dust off the filters and reduce consumable costs and maintenance.
SAFESENSOR™ PARTICULATE MONITOR: SafeSensor™ detects leaks past the filters and shuts down the system if a leak is detected.
EXTRA-DEEP DUST BIN: Holds more dust for easier maintenance.
The system is engineered to create a plant-wide environmental vortex that turns the air at a consistent and steady rate. It is especially effective in cases where source capture of smoke or dust isn't possible due to large or unusual manufacturing operations, or when there are overhead cranes and limited ceiling space. The design of our Vortex system is especially suited to the capture of dirty air in the most challenging places.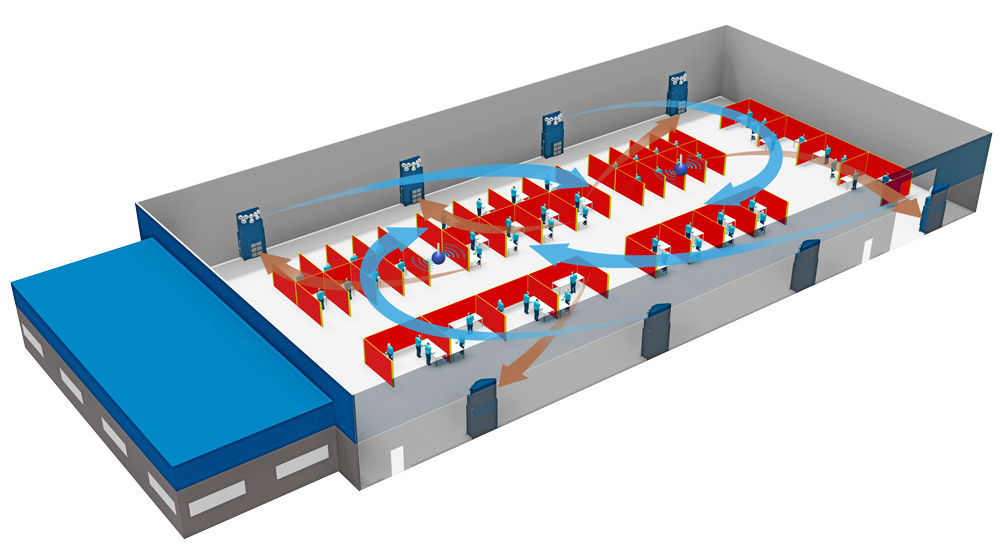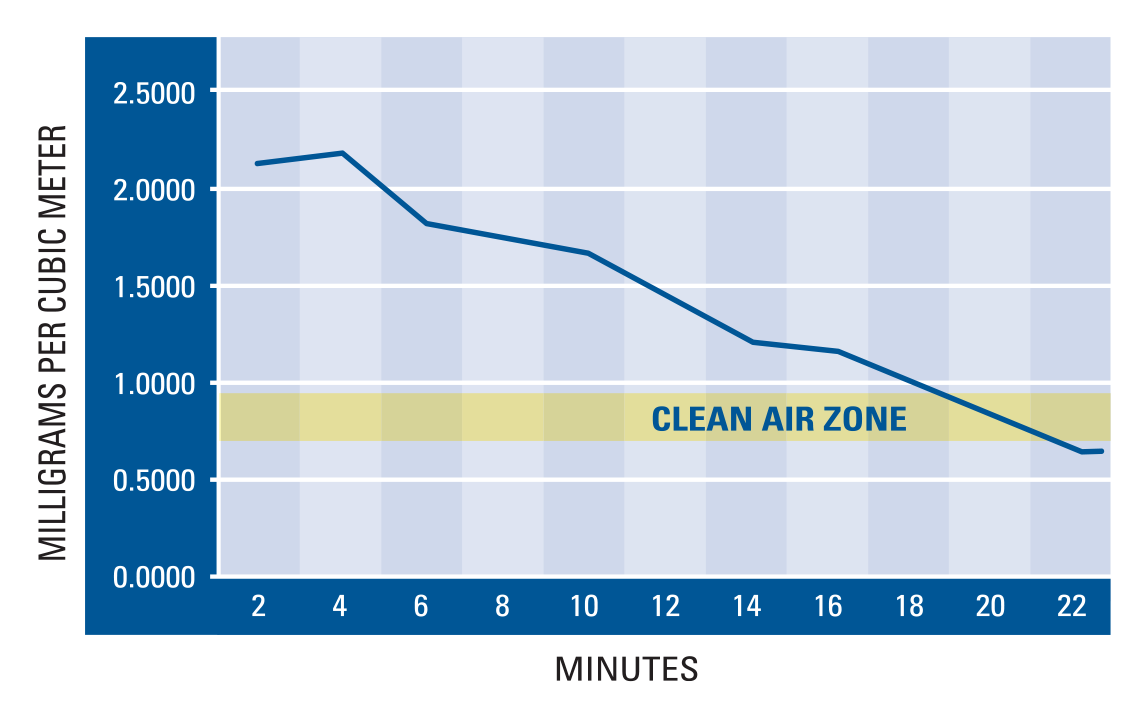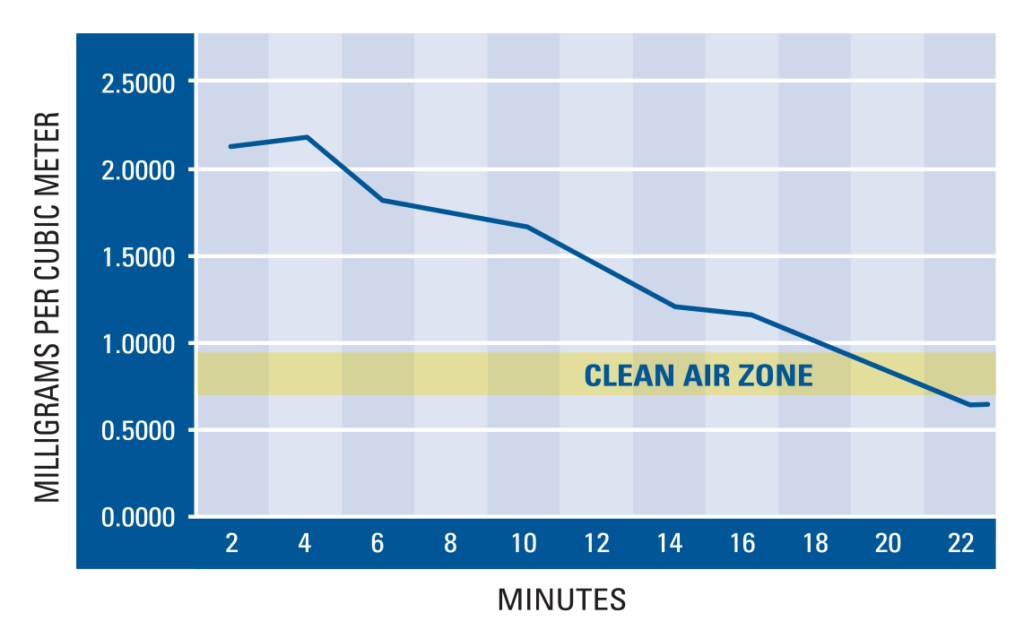 PROGRESSIVE MEASUREMENTS THAT WERE RECORDED IN THE FACILITY DURING PRODUCTION
The chart shows the change in air quality over a 20-minute period while the RoboVent system was running during production. When production was not running, the air quality entered the "clean-air zone" in less than eight minutes.
VENTMAPPING® ENGINEERING DESIGN SERVICES
Take the guesswork out of your clean air initiative
Your facility is unique. To get the best results, your whole-plant ventilation system needs to be personalized to your individual environment. That requires a thorough understanding of your facility layout, fume-generating applications, airflow patterns and physical constraints.
VentMapping is a systematic engineering and design service that uses a holistic approach to optimize your air quality system. Our comprehensive approach helps us find the safest, most effective and most efficient way to meet your goals.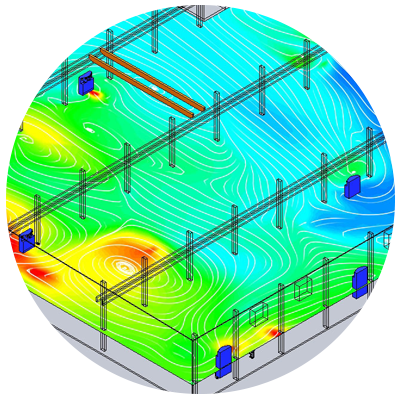 DROP US A LINE
Contact RoboVent today to start building your custom dust collection system.