VORTEX AMBIENT AIR FILTRATION
UNLEASH THE POWER OF THE VORTEX FOR CLEANER, HEALTHIER AIR
Clear the air for your whole facility with the Vortex™ ductless ambient air filtration system, available for Senturion®. Vortex transforms your dust collector into a floor-mounted ambient filtration system that pulls dirty air in and pushes clean air out—no ducts required.
No ductwork: Cut installation costs and timelines and keep the ceiling free for overhead equipment.
Compact size: Vortex fits within column lines or can be mounted on stands or walls.
Flexible configuration: With no ductwork, the Vortex system is easy to reconfigure as your needs change.
Energy savings: Multiple individual units allow you to turn on filtration only where it is needed.
Low maintenance: Designed for long filter life and minimal maintenance so you can stay focused on production.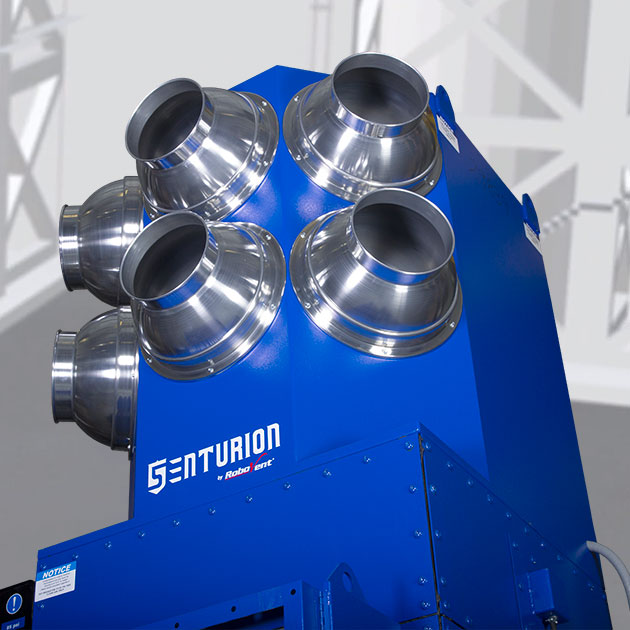 VENTMAPPING™: OPTIMIZING AMBIENT AIR FILTRATION
Our VentMapping™ engineering service is a proprietary, scientific approach to air filtration system design. Using advanced analytical methods, including Computational Fluid Dynamics (CFD), we model your current airflow patterns and contaminant levels and design a system around your unique facility layout, contaminant sources and air quality goals. VentMapping can be used to optimize placement of your dust collectors and maximize the effectiveness and efficiency of your system.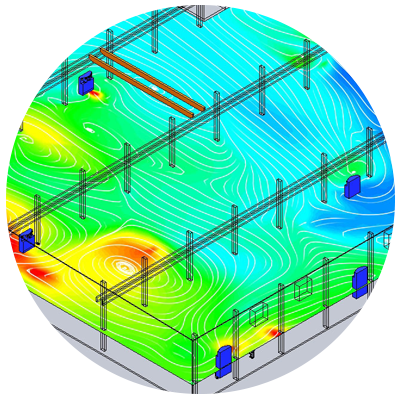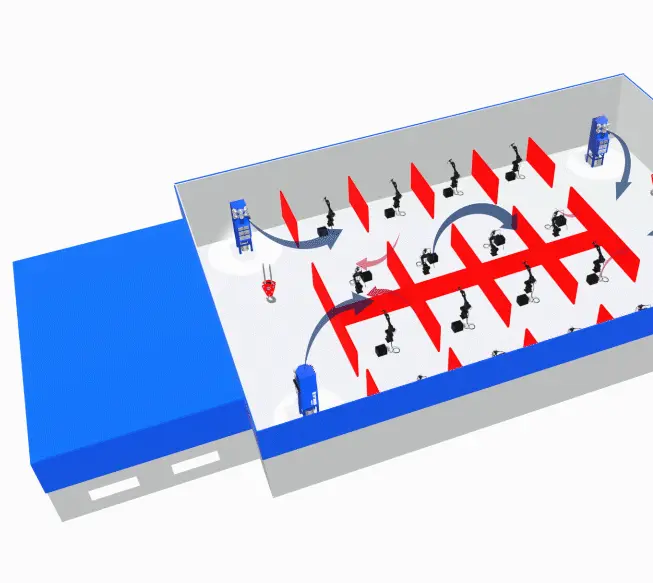 EXPERIENCE VORTEX™
Vortex consists of specialized intake and exhaust plenums that are attached to a compatible dust collector.
Together, the intake and exhaust create a circular airflow pattern (a vortex) that pulls contaminated air in and pushes clean air back out. Adjustable punka louvers allow airflow to be directed for optimal collection efficiency.
Several units can be installed in a plant to create facility-wide airflow patterns that pull contaminants away from areas where humans are working and ensure a supply of clean, fresh air.
Using multiple units with individual fans saves energy by allowing you to target air filtration where it is needed for active production and turn off units when they are not needed–unlike a ducted push/pull system, which is always cleaning air for the entire facility.
OPTIONS AND FEATURES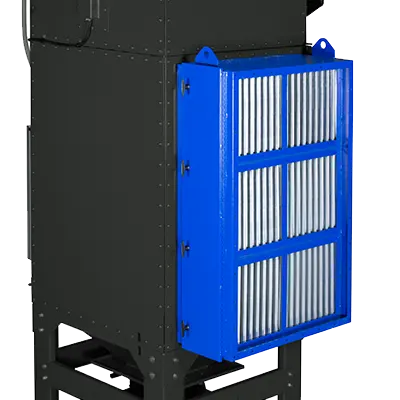 THE VORTEX INTAKE:
Located on the side of the Senturion and is designed with a baffle and two layers of metal mesh filters to prevent sparks from entering the filter cabinet.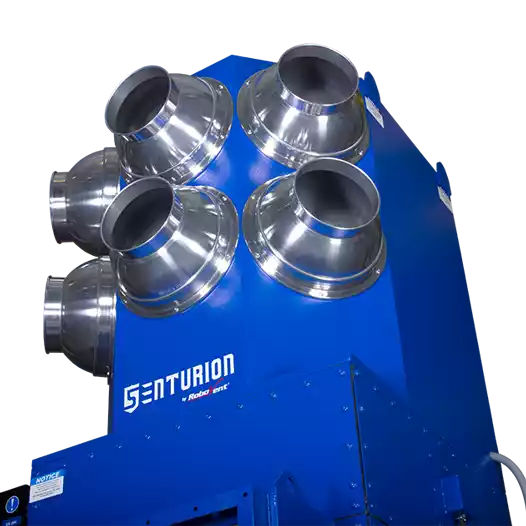 THE VORTEX EXHAUST PLENUM:
Sits on top of the dust collector filter chamber and directs clean air back into the facility via adjustable punka louvers.
BLOWER/FAN COMBINATION: Included with Vortex Package.
CASE STUDY
Jay Manufacturing: A Custom Dust Collection Solution for General Fabrication
Jay Manufacturing is a large, full service metal fabricator based in Oshkosh Wisconsin. While contract manufacturing and production is the main operation taking place at the 115,000-sq. ft. facility, they also specialize in product R&D. Jay Manufacturing paired robotic welders with RoboVent fume collectors and were pleased with how quiet and aesthetically pleasing they were. When they expanded their welding space by 60,000 sq. ft., they needed a new solution.
It was determined that an ambient system with the Vortex system would be a perfect fit.
WHEN DO YOU NEED AMBIENT AIR FILTRATION?
Ambient air filtration can be used by itself or in combination with source capture to collect residual contaminants not captured by the primary system. Ambient systems are especially valuable when:
Overhead cranes or other facility constraints make source capture impractical
Working on large parts that cannot be hooded or enclosed
Dealing with nuisance fumes or particulate throughout the facility
Ambient filtration works on the "dilution" principle (you may have heard the mantra, "the solution to pollution is dilution"). By continually filtering air in the facility, the system reduces contaminant concentrations to safer levels. The goal of an ambient air filtration system should be to keep concentrations of contaminants below Permissible Exposure Limits (PELs) or Threshold Limit Values (TLVs) set by regulatory bodies (Like OSHA) or scientific organizations (like NIOSH or ACGIH). (More on Exposure Limits.)
Our ambient air filtration systems reduce environmental emissions to help comply with EPA regulations and capture contaminants for safe disposal, rather than sending dirty air into the atmosphere.
PROGRESSIVE MEASUREMENTS THAT WERE RECORDED IN THE FACILITY DURING PRODUCTION
The chart shows the change in air quality over a 20-minute period while the RoboVent system was running during production. When production was not running, the air quality entered the "clean-air zone" in less than eight minutes.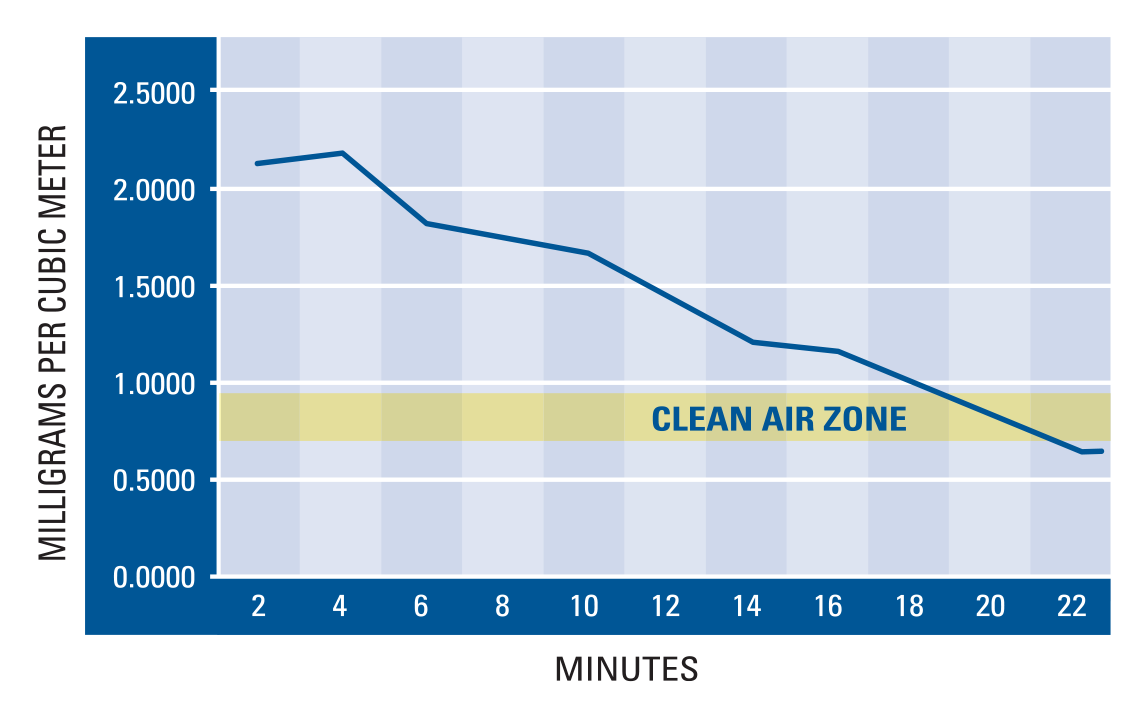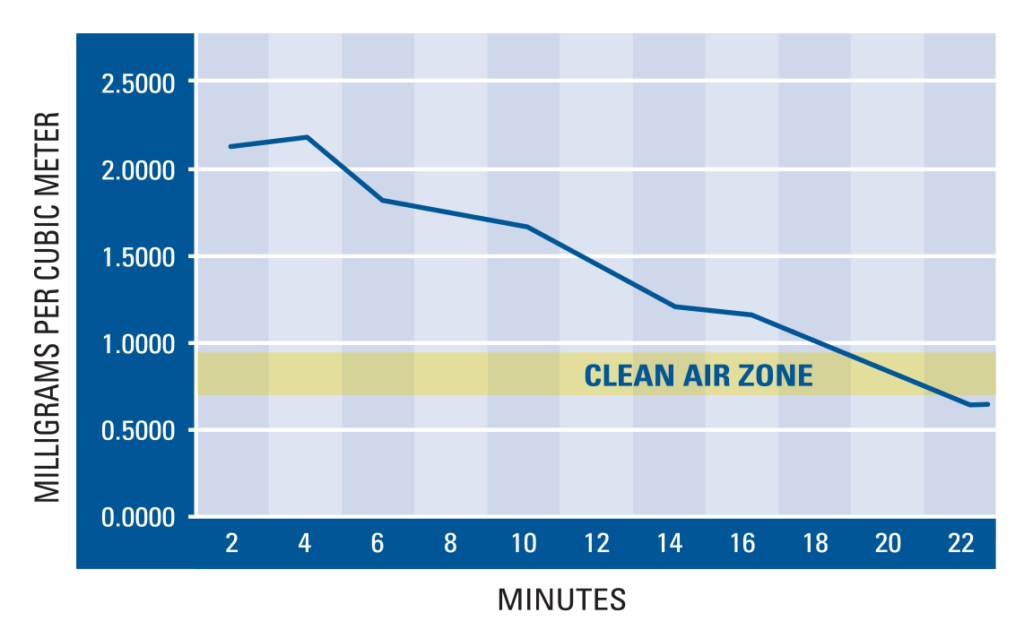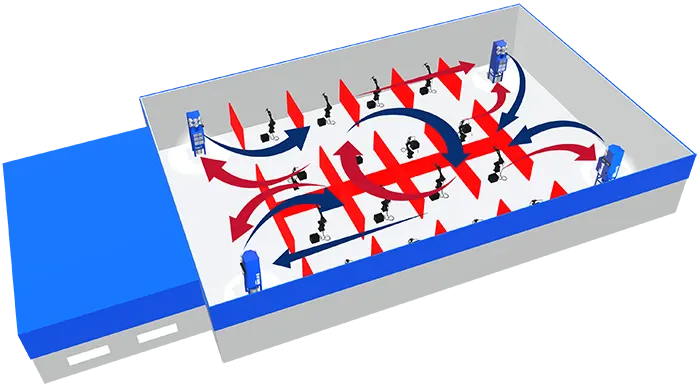 WHY GO DUCTLESS?
A ductless ambient filtration system allows you to benefit from ambient filtration without the ductwork. A traditional push-pull ambient filtration system uses a series of ducts that are installed near the ceiling to pull air up and away from the breathing zone and create a linear airflow pattern. In contrast, Vortex places the dust collector directly on the floor where contaminants are created. A ductless system has several advantages.
A dustless system cuts installation time and costs. Individual floor- or wall-mounted units are easy to set up–just place them, plug them in and turn them on.
It makes ambient filtration possible in facilities that do not have room for ductwork or where ductwork would interfere with cranes and other overhead equipment.
It is highly flexible, allowing the system to be easily reconfigured if the facility is retooled or expanded.
Ambient dust collectors can be placed exactly where they are needed to create optimal airflow patterns in the facility and remove contaminants closer to the source. This reduces energy costs for the system.
CONTACT US
Contact RoboVent today to start building your custom dust collection system.