Jay Manufacturing: A Custom Dust Collection Solution for General Fabrication
Jay Manufacturing is a large, full service metal fabricator based in Oshkosh Wisconsin. While contract manufacturing and production is the main operation taking place at the 115,000-sq. ft. facility, they also specialize in product R&D. Remaining a flexible manufacturer for more than six decades has allowed them to become a highly successful partner with several Fortune 500 companies.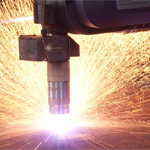 The Problem
Eight years ago, Jay Manufacturing purchased two robotic welders from a supplier with whom RoboVent had a partnership to include the fume collectors. At this point in Jay Manufacturing's history, they were operating in a weld shop that was roughly 20,000 sq. ft., with 22 manual welders on three shifts.
About five years ago, Chris Boycks, Director of Quality / Process Improvement and VP of Lean Initiatives, knew they would be expanding their welding area to about 60,000 sq. ft. Chris had been very pleased with how quiet and aesthetically pleasing the RoboVent collectors for their robotic welders were, so he decided to reach out to us to come up for a solution for the new addition.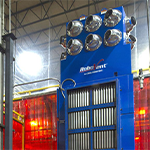 The RoboVent Solution
Adam Pfeiffer, the RoboVent Solutions Director for the Wisconsin region, led the charge in helping Chris and designing a solution that would fit the needs of a highly diverse contract manufacturer. Due to the variety of the parts manufactured, a standard hooded system would not work.
With this in mind, Adam suggested that an ambient system would be the best solution. The Vortex system would be a perfect fit to effectively control air contamination, while keeping the shop floor clear. This system uses strategically placed filtration units with directional nozzles to direct air in a vortex pattern that maximizes efficiency.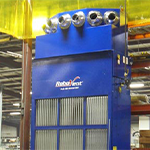 The Results
After the solution was agreed upon, the installation went very smoothly. There was a slight hiccup with the wrong bracket stands being delivered, but the project team recognized the problem quickly and had the correct parts shipped immediately.  Safety is a high priority at Jay Manufacturing, and with this system in place, they have had more 1,200 days without any work-related injuries or illnesses. Maintaining a high level of customer service is paramount here at RoboVent. Chris has expressed high satisfaction regarding not only the speed at which issues are addressed, but the attention to detail the customer service team employs. Any equipment issues are dealt with swiftly, minimizing factory downtime. These factors combined have cemented Chris as a long term RoboVent customer, who is willing to recommended our products and solutions to anyone in the metal fabrication industry.