DUST AND FUME COLLECTION CHALLENGES IN THE CONSTRUCTION EQUIPMENT INDUSTRY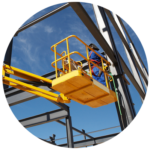 As manufacturers well know, the Occupational Safety and Health Administration (OSHA) issues standards to regulate air quality in the workplace. These regulations apply to dust and fume levels, in general, as well as to specific substances found in those dusts and fumes. For example, OSHA regulates workers' exposure to hexavalent chromium, a metal that can be found in weld fumes. Particulates of this substance are extremely small, due to the high temperatures involved in welding. When inhaled, these tiny particulates can travel deep into the body. Hexavalent chromium is a known carcinogen and, when inhaled, has been linked to incidences of cancer.
It is impossible to manufacture construction equipment without engaging in serious metal-working processes. No manufacturer is going to avoid dust and weld fumes from these sources. Whether you have only a few manual welding stations or a floor full of robotic welding cells, the airborne contaminants produced will be substantial. These contaminants don't just threaten workers' health and regulatory compliance, they also can make employee recruitment and retention more difficult. Due to the upsurge in manufacturing, it is becoming more difficult to attract new, skilled workers. The American Welding Society estimates that manufacturers will see a shortage of 290,000 skilled workers by 2020. Maintaining a pleasant and safe workplace will help to attract and keep the best workers.
SOLUTIONS FOR DUST AND FUMES IN THE CONSTRUCTION EQUIPMENT INDUSTRY
RoboVent has decades of experience designing and manufacturing the best air filtration equipment available. We understand the construction equipment industry and have a solution for every application. For example, the Fusion Series dust collectors provide power and performance at an unprecedented level of efficiency. These collectors are designed to save energy while delivering the finest filtration possible. If your operation is large—or growing—you can scale up the collection efforts with different configurations.
For a more flexible operation, RoboVent's line of portable collectors lets you capture dust and fumes at their point of creation. These collectors use fume arms or hoods to make sure welders are protected, as well as everyone in the facility. These collectors are especially useful when welding or cutting large components, like those seen in construction equipment.
RoboVent also offers exceptional protection from fire and explosion. For example, the Delta 3 spark arrestor and the Supprex-200 Fire Suppression System stop fires before they start. These systems protect workers, property and production lines.
As always, RoboVent guarantees satisfaction. Our manufacturing standards are the highest in the industry, and our warranty is the best in the business.
CONTACT US
Contact one of our industrial dust experts to gain the advantage against dust-generating processes and applications.