A Perfect Fit
Workers at Voith Siemens Hydro Power Generation in York, PA can breathe a little easier these days. That's because the company continues to promote the health and safety of its hardworking employees with the installation of RoboVent's innovative Air Filtration System.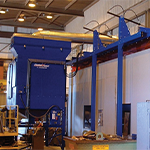 Craig Kindig, manager of facilities and maintenance for the plant, has been a supporter for air filtration for robotic welding and cutting because it provides a safe and healthy work environment.
"Before implementing an air filtration system, our production bays had smoke in the air because of our plasma cutting," Kindig said. "That, coupled with the fact that OSHA implemented stricter Hexavalent Chromium standards, encouraged us to look for a better solution."
Voith Siemens Hydro Power Generation mainly produces hydro turbines. There are 500 employees at the plant in York generating roughly $100 million in revenue per year.
Kindig takes his role in managing the facilities and maintenance seriously, so when OSHA announced stricter Hexavalent Chromium standards, he moved quickly to begin investigating solutions in the name of health and safety. The Voith plant in York naturally creates a lot of smoke because of the stainless steel plasma cutting. While the company was well within OSHA standards, Voith felt strongly about taking additional steps to protect the health of their employees and determined that any amount of smoke was too much smoke.
"The company and I wanted to do more than just be within OSHA standards," said Kindig. "Voith is very committed to its employees. We want to protect our employees from any smoke."
Searching for a solution presented challenges. The York plant manufactures large components that are custom designed so they needed an air filtration system to be flexible. In addition, the York plant did not want to see any smoke after the air filtration system was installed. To meet these challenges, the company selected RoboVent. The RoboVent system offered flexibility because the air filtration system could be installed on the top of the robot cell. And, RoboVent guaranteed that the system would capture all the smoke.
Another challenge for RoboVent was that the system for Voith had to be specially made due to the uniqueness of the cutting robot.
"I provided RoboVent with a schematic of the cell," Kindig said. "RoboVent then came out and made their own measurements in order to design a solution that directly met our needs. The roof of the air filtration system was a concern because existing models were too small. The roof could not interfere with the operation of the robot."
Originally, RoboVent designed an airpowered roof to address this issue. However, in working with Kindig and other York employees, RoboVent decided that a hydraulic powered system would be a better way to go and provide more stability and greater lifting power for a set of very large doors.
"It was truly a collaborative effort, Kindig said. "RoboVent worked with us to solve each and every one of our issues."
Because this York plant is a 24/7 operation, the installation of the air filtration system had to be timed when appropriate for the production line. The installation was coordinated with production control and did not impact the company's production schedule at all. After the installation, RoboVent Product Group ensured everything worked as specified.
"We selected the RoboVent product because our robot cell and the products we produce are so big that nothing off the shelf fit what we needed, said Kindig. "RoboVent was willing to design a solution just for us. They worked with us to make sure we could move parts in and out of the robotic cell. Other air filtration systems were just not able to deal with the size of our equipment and the special challenge the roof presented."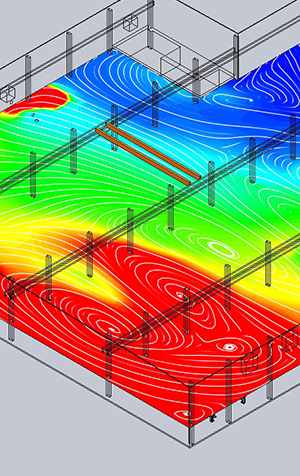 FEATURED SOLUTION: VENTMAPPING® ENGINEERING
In designing ventilation systems, a key challenge is customizing each system to its unique application and environment. Many factors must be taken into consideration: dust and fume sources, plant layout, existing airflow patterns, future process changes and more. Your motivation and goals matter greatly, as well—these might include any combination of health concerns, plant safety, regulatory compliance and more.
Kindig is very pleased with the affect the new air filtration system has had within the York plant. He feels the company is now providing a much healthier atmosphere for its employees and is also continuing to adhere to and exceed OSHA standards for smoke ventilation.
"We are pleased to have accomplished this with the RoboVent system," Kindig said. "And we are pleased to have found such a flexible partner in RoboVent; a partner who works with us to help us achieve our goals."