INDUSTRIAL DUST COLLECTORS
Trust your dust to the clean air specialists.
RoboVent designs, manufactures and installs world-class industrial dust collectors for every application, from weld fume to industrial dusts of all types. We build our dust collection equipment for filtration and energy efficiency, reliability and performance. And we back our dust collectors with the best warranty in the industry. It's a clean air solution you can count on—for today and tomorrow.
Talk to an industrial dust collection solutions specialist.
Designed and Built for Quality in North America
We build our industrial dust collectors right here in our manufacturing facilities in Sterling Heights, Michigan and in our sister facilities in Canada and Mexico so we can guarantee quality and performance.
Designed according to scientific principles and industry best practices and tested using ASHRAE Standard 199
Tough construction for heavy-duty industrial dust collection applications
Engineered to reduce total cost of ownership, electrical consumption, compressed air usage and consumable costs
Designed with maintenance in mind for reduced downtime and longer consumable life
Integrated fire suppression and explosion safely elements for superior protection from thermal events
Field tested and built to last
15-year equipment warranty with our service package

Selecting the Right Options for Your Industrial Dust Collector
How do you select the right industrial dust collector for your application? Industrial dust collection can be broadly divided into two categories: source capture and ambient.
Source Capture
Source capture industrial dust collection systems collect fumes and dust as close to the source as possible to keep them from propagating through the facility. Dust- and fume-producing processes may be contained under a hood or in an enclosure. Other applications may use fume arms, fume extraction guns, backdraft/sidedraft intake plenums or downdraft tables.
Applications:
Bulk powder/batch mixing applications
Any high-volume or high-risk dust and fume application
Ambient
Ambient industrial dust collection systems cycle and filter air from an entire room, area or facility. They may be a stand-alone dust, fume and mist collection solution for low-volume/low-risk applications or a secondary solution to remove dust and fumes not captured by the primary source capture system. Ambient systems may be ducted or ductless.
Applications:
Whole-facility air filtration
Low-volume/low-risk dust, mist and fume collection
Backup to primary source capture
Industrial Dust Collection for Challenging Dust Types
Have a tough dust collection challenge? No problem. We're the experts in handling challenging dust, including abrasive, combustible, fibrous, hygroscopic, extra-fine or dangerous dust.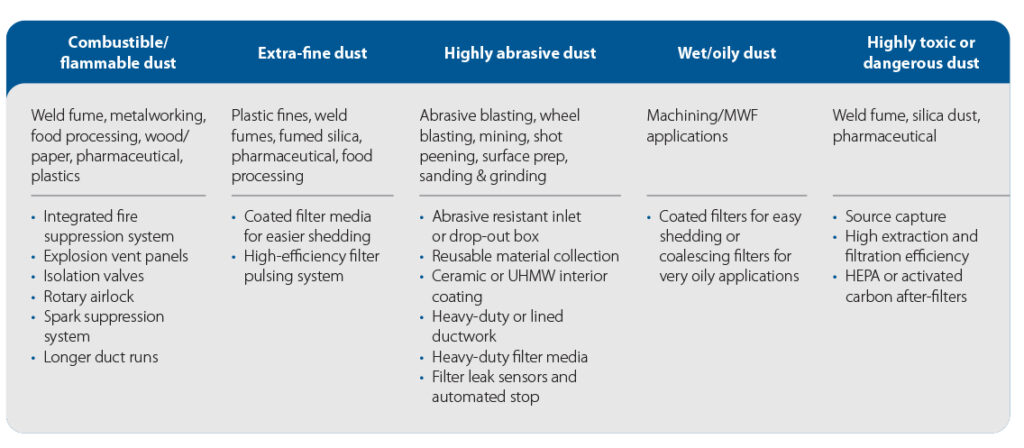 Industrial Dust Collection Solutions by Application
Designing an effective and reliable industrial dust collection system requires an understanding of the application and facility. We can design a dust, fume and mist collection system for any industry and application.
Robotic welding
Manual welding
Metalworking
Plasma and laser cutting
Surface prep/ abrasive blasting
Plastics
Pharmaceutical/ Nutraceutical
Food processing
Recycling